Everything you need to know about Chris Froome's salbutamol case
The main questions answered after Froome was cleared of any wrongdoing by the UCI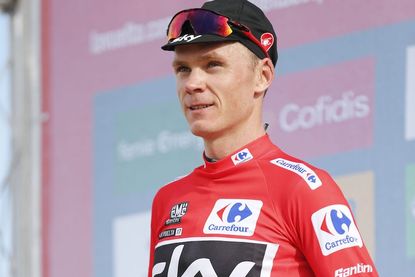 (Image credit: Yuzuru Sunada)
Chris Froome has been cleared of any wrongdoing after the UCI dropped its anti-doping investigation into the Team Sky rider which stemmed from a test at the 2017 Vuelta a España.
News of the case was leaked to The Guardian and Le Monde in December, with the two newspapers reporting that Froome had delivered an adverse analytical finding for salbutamol after stage 18 of the Vuelta, which he went on to win overall
Months of speculation followed, with Froome winning the Giro d'Italia in the meantime, before the UCI cleared Froome of any wrongdoing and decided that his test did not constitute an adverse analytical finding.
Here, we answer the main questions arising from the case that you need to know.
Why has Froome been cleared?
During the seven months between the investigation into Froome being leaked to the press and the UCI announcing that the 33-year-old had been cleared, there was plenty of speculation about Froome's possible defence in the case.
In mid-January, French newspaper L'Equipe reported that Froome's lawyers would argue that a "kidney malfunction" was behind the test result.
The scientists reportedly aimed to show that rather than excreting the metabolites of salbutamol after it had been processed by his liver, Froome's kidneys malfunctioned and accumulated them. When his kidneys began to function properly again, they excreted it in the high levels that resulted in the extremely elevated test reading on 7 September.
In May, The Times reported that Froome's legal team was considering pointing to a recently published research paper, entitled Futility of current urine salbutamol doping control which casts doubt on WADA's test for salbutamol.
According to the paper, there is a large volatility in test results even from legal salbutamol use with as many as 15.4 per cent of tests returning a false positive, meaning that the test is "fundamentally flawed".
However neither the statement from the UCI nor that from Team Sky give an explanation as to why Froome has been cleared of any wrongdoing.
According to the UCI, the decision was made after examining "a significant number of expert and scientific reports" submitted by Froome's legal team, while the statement also gives prominence to the fact that athletes can be cleared if they "can establish that their abnormal result was the consequence of permitted use".
Team Sky general manager Dave Brailsford also gave a little information about the possible reasons for the UCI dismissing the case.
"We said at the outset that there are complex medical and physiological issues which affect the metabolism and excretion of Salbutamol," Brailsford said. "The same individual can exhibit significant variations in test results taken over multiple days while using exactly the same amount of salbutamol. This means that the level of salbutamol in a single urine sample, alone, is not a reliable indicator of the amount inhaled.
"A review of all Chris's 21 test results from the Vuelta revealed that the Stage 18 result was within his expected range of variation and therefore consistent with him having taken a permitted dose of salbutamol."
What is salbutamol, and why was it in Froome's system?
Salbutamol is drug used to treat and alleviate the symptoms of asthma and is part of a group of drugs known as Beta-2 agonists.
The drug opens the airways in the lungs to help breathing. It is usually administered via an oral inhaler.
Froome has a known history of suffering with asthma and uses salbutamol to manage his symptoms. Team Sky said in a statement that Froome suffered from 'acute asthma symptoms' during the final week of the Vuelta. A team doctor advised Froome to take an increased dose of salbutamol - still within the permissible doses - to help alleviate his symptoms.
>>> The truth about cycling and asthma
Froome's use of an inhaler received attention in June 2014, when he was filmed using it during the Critérium du Dauphiné.
According to World Anti-Doping Agency (WADA) rules, 1,600 micrograms of salbutamol can be taken by an athlete via inhaler in a 24-hour period without the need for a therapeutic use exemption (TUE) certificate. A TUE is issued when an athlete requires a drug listed as prohibited by WADA for a legitimate medical need.
What is an 'adverse analytical finding'?
An adverse analytical finding is when an anti-doping authority identifies a potential breach in anti-doping rules, in this case a specified substance detected at a higher-than-allowed level by the Cycling Anti-Doping Foundation (CADF). CADF are responsible for doping control for the UCI.
WADA rules state that salbutamol is permitted to be present up to a threshold of 1,000 nanograms per millilitre (ng/ml). According to Team Sky Froome's urine sample collected on September 7, 2017 was 19 per cent over the decision limit once dehydration was taken into account.
WADA rules state: "The presence in urine of salbutamol in excess of 1000ng/ml or formoterol in excess of 40ng/ml is presumed not to be an intended therapeutic use of the substance and will be considered as an Adverse Analytical Finding (AAF) unless the Athlete proves, through a controlled pharmacokinetic study, that the abnormal result was the consequence of the use of the therapeutic dose (by inhalation) up to the maximum dose indicated above."
>>> UCI Anti-Doping Rules (external PDF)
What about any other samples taken during the Vuelta?
20 other samples were collected from Froome during the Vuelta, and none required "any further explanation". In other words, none returned results that warranted investigation by anti-doping authorities.
Why wasn't Froome suspended?
While the investigation into him was ongoing, Froome was not suspended from competition due to the nature of the substance for which he was under investigation.
According to WADA rules, salbutamol is not considered a "specified substance" meaning that Froome's test result did not subject him to a mandatory provisional suspension that would have prevented him from riding while his case was being investigated.
What happens now?
Having been cleared by the UCI, Froome is now free to race the Tour de France (starting on July 7) where he will be searching for a record-equalling fifth title and a historic Giro/Tour double.
Have any previous riders been banned for salbutamol?
Riders have been banned in the past for returning an AAF for salbutamol. The most recent is Italian rider Diego Ulissi, who returned an AAF for 1900ng/ml of salbutamol during the 2014 Giro d'Italia. He was suspended from competition for nine months.
Among other cases, Alessandro Petacchi was suspended for a year and had five stage wins removed after returning an AAF for salbutamol at the 2007 Giro d'Italia.
Other riders have had their cases acquitted due to medical reasons, and were not served a sanction.
Thank you for reading 20 articles this month* Join now for unlimited access
Enjoy your first month for just £1 / $1 / €1
*Read 5 free articles per month without a subscription
Join now for unlimited access
Try first month for just £1 / $1 / €1