Chris Froome set to argue that kidney problem caused adverse salbutamol test
French paper L'Équipe suggests scientific experts advising Froome are preparing an unprecedented defence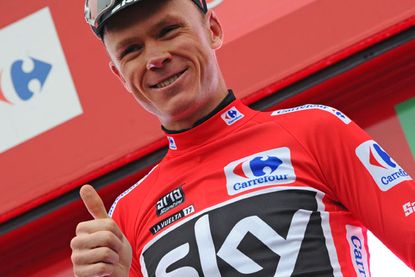 (Image credit: Yuzuru Sunada)
The legal and scientific experts that have been brought together by Chris Froome following his abnormal test reading for salbutamol at the Vuelta a España last September are reported to be following an unprecedented line of investigation linked to a malfunction in the British rider's kidney function.
According to L'Équipe, Froome's advisers are hoping to show that this malfunction resulted in the Team Sky rider recording a salbutamol level at twice the permitted limit on the Vuelta's 18th stage, as he closed in on overall victory in that race.
>>> Everything you need to know about Chris Froome's salbutamol case
The French sports daily reports that Froome's salbutamol readings on the days either side of the abnormal test were very low. Having discounted the dehydration hypothesis initially suggested as a possible cause for a spike in the salbutamol concentration and decided against a pharmacokinetic option that might have shown that external factors were the cause because of the difficulty of recreating the same conditions of that day, Froome's team of experts are said to be focusing on this new hypothesis.
The scientists are aiming to show that rather than excreting the metabolites of salbutamol after it had been processed by his liver, Froome's kidneys malfunctioned and accumulated them. When his kidneys began to function properly again, they excreted it in the high levels that resulted in the extremely elevated test reading on 7 September.
Watch: Tour de France 2018 route guide
http://www.youtube.com/watch?v=QaCHePwsEuk
L'Equipe says that Froome and Sky - who deny exceeding the permitted dosages for salbutamol - have yet to pass their dossier containing their defence to the scientific experts at the UCI's Legal Anti-Doping Services (LADS), but that the LADS has already brought in its own kidney specialist with this in mind.
The key for Froome is that if the LADS is satisfied that the explanation put forward by his team of experts are valid then the rider will be cleared and his victory in the Vuelta will be confirmed. However, the World Anti-Doping Agency and UK Anti-Doping Agency could then challenge this decision at the Court for Arbitration of Sport.
If, on the other hand, Froome's experts can't satisfy the LADS, he will have to accept the sanction imposed. As the British rider has not admitted surpassing the permitted levels by mistake, as was the case with Diego Ulissi in 2014 – the Italian receiving a reduced nine-month ban as a result – the sanction imposed would likely be two years. If Froome refuses to accept the sanction, the case will pass to the UCI's anti-doping tribunal and could then continue to the CAS.
>>> Chris Froome anti-doping investigation should not have been made public, says British Cycling boss
What L'Equipe describes as Froome's "double or quits" defence could lead to the British rider receiving a two-year ban, his sacking by Sky and, potentially, given that he is 33, the end of his career.
His lawyer, Mike Morgan, specialises in cases such as this. Morgan has represented Alberto Contador, Lizzie Deignan, Johan Bruyneel, tennis player Maria Sharapova, and footballers Kolo Touré and Mamadou Sakho with various degrees of success. As one of Morgan's peers points out to L'Équipe, though, "whatever the quality of the lawyer involved, they can only win winnable cases."
With Froome still slated to ride the Giro d'Italia, race director Mauro Vegni is hoping for a fast resolution of the affair. "I remain confident and hope that everything will be clarified, for Froome, for the interests of the Giro and for cycling in general," said Vegni.
>>> Richie Porte 'flabbergasted' and 'in shock' over Chris Froome anti-doping investigation
"I'm very keen to hear the final result, because there is no way that I will accept a compromise solution as was the case with Alberto Contador in 2011, who won the Giro and was then stripped of the title as the result of a positive anti-doping test in another race…
"Froome was found to be positive in September 2017 and the Giro will take place in May 2018. The authorities have therefore got eight months to find a solution. I'd like to think that's long enough, if not it would reduce confidence in our ability to manage our sport. The public wouldn't understand, and I wouldn't either."
Thank you for reading 10 articles this month* Join now for unlimited access
Enjoy your first month for just £1 / $1 / €1
*Read 5 free articles per month without a subscription
Join now for unlimited access
Try first month for just £1 / $1 / €1
Peter Cossins has been writing about professional cycling since 1993, with his reporting appearing in numerous publications and websites including Cycling Weekly, Cycle Sport and Procycling - which he edited from 2006 to 2009. Peter is the author of several books on cycling - The Monuments, his history of cycling's five greatest one-day Classic races, was published in 2014, followed in 2015 by Alpe d'Huez, an appraisal of cycling's greatest climb. Yellow Jersey - his celebration of the iconic Tour de France winner's jersey won the 2020 Telegraph Sports Book Awards Cycling Book of the Year Award.