Richie Porte 'flabbergasted' and 'in shock' over Chris Froome anti-doping investigation
Porte describes his reaction to hearing news of UCI investigation into friend and former team-mate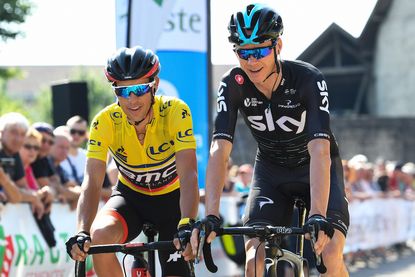 (Image credit: ASO/A. Broadway)
Richie Porte has described how he was "flabbergasted" and "in massive shock" when he received the news that friend and former team-mate Chris Froome was under investigation by the UCI after delivering an adverse analytical finding for salbutamol.
Speaking after finishing third in the time trial at the Australian Road National Championships, Porte said that there was little he could say on the matter.
"There's not really much you can say. Whatever you say, you can't win," Porte told the AAP.
>>> Greg LeMond: 'Chris Froome broke the rules so he should be punished'
"It's a big shame. When I heard the news, it was a massive shock. Let's see what happens, let it all run its course. I'm flabbergasted, as you guys are.
"I do have respect [for Froome]. He is a good friend and we were team-mates for a long time. It is only natural you are going to ask the questions but I'd probably rather not say too much."
Watch: Top 10 riders of 2017
Porte was not the only rider to be asked about Froome' salbutamol case after Friday's time trial, with race winner Rohan Dennis saying that if he was in the same situation as Froome then he would take full responsibility for the test results.
"I've made it no secret that I have a zero tolerance for any sort of positive test and that goes for myself," Dennis said.
"If I accidentally or purposefully take something – which I never would, purposefully take something – then I'd just have to own it and get a slap on the wrist.
"I don't know the full details, but for myself, if that was me, I'd just say 'Look, I screwed up, I shouldn't have done this, or what-not'."
>>> Everything you need to know about Chris Froome's salbutamol case
Froome is currently under investigation by the UCI after being found to have a high concentration of the asthma drug salbutamol in his urine after stage 17 of the 2017 Vuelta a España.
Froome denies exceeding the permitted dosage for the drug, and must now prove that the high concentration of the drug in his system was not as a result of exceeding the maximum permitted dosage of 800 micrograms per 12 hours.
Thank you for reading 20 articles this month* Join now for unlimited access
Enjoy your first month for just £1 / $1 / €1
*Read 5 free articles per month without a subscription
Join now for unlimited access
Try first month for just £1 / $1 / €1