Greg LeMond: 'Chris Froome broke the rules so he should be punished'
Three-time Tour winner launches stinging attack on Froome, Brailsford, and Team Sky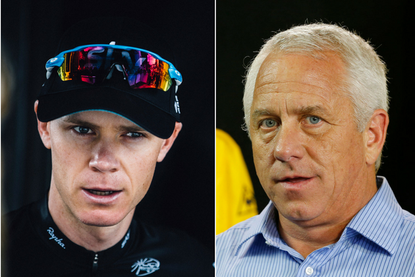 (Image credit: Sunada)
Chris Froome should be "punished accordingly" whatever his "ridiculous" excuse for delivering an adverse analytical finding (AAF) for salbutamol at the 2017 Vuelta a España, according to three-time Tour de France winner Greg LeMond.
Launching a stinging attack on Froome and Team Sky - who deny exceeding the permitted dosage - LeMond said that Froome alone was responsible for what goes into his body, and described Sky and Dave Brailsford as "secretive" and "not as scientific and knowledgable as they claim to be".
Froome, who is complying with a UCI investigation into the case, could argue that the high concentration of salbutamol in his urine after the tough summit finish to Los Machucos on stage 17 of the Vuelta was due to taking multiple puffs on his inhaler to avoid coughing during TV interviews.
>>> Everything you need to know about Chris Froome's salbutamol case
According to World Anti-Doping Agency rules, riders are allowed a maximum of 800 micrograms of salbutamol over 12 hours, with Froome and Team Sky looking to prove that the high concentration of salbutamol in Froome's urine was not due to exceeding this maximum dosage.
However this explanation was dismissed by LeMond, who said that Froome's case had to be seen in the context of the wider controversies which have hit Team Sky over the last 18 months.
"That is the most ridiculous excuse I have ever heard," LeMond said in an interview with The Times. "If this is what he claims, then it's simple, he broke the rules and should be punished accordingly.
"You have to look at Froome's AAF in context of everything around Team Sky. The comments from Shane Sutton, the lost records, the Jiffy bag."
Watch: Top 10 riders of 2017
LeMond went on to say that Froome was the only person who should be responsible for the amount of salbutamol found in his body, and called on authorities to apply the rules to the four-time Tour de France winner in the same way as they would any other cyclist.
"It's the athlete's responsibility for following the rules. As for the use of salbutamol, it's up to Chris Froome to be responsible for what he puts into his body. He alone is responsible.
"The peloton relies on the equal application of the rules. If these are not followed, it undermines the sport."
>>> Chris Froome should be 'voluntarily suspended' by Team Sky, says anti-doping group
According to WADA rules, athletes are subject to the principle of strict liability, which means that they are responsible for anything found in their body. However WADA also describes the principle as "a starting point" and there is "flexibility when a sanction is being considered".
As well as calling for Froome to be punished, LeMond went on to attack the integrity of Team Sky, particularly general manager Dave Brailsford.
"I don't believe in Dave Brailsford," LeMond continued. "He's secretive, he skirts around questions, and from what I read and hear, the team is not as scientific and as knowledgeable as they claim to be.
"It pains me to hear Brailsford and the team dismiss real science as pseudoscience, always a red flag as far as I am concerned. As history has shown, when things are too good to be true, they usually are."
Thank you for reading 20 articles this month* Join now for unlimited access
Enjoy your first month for just £1 / $1 / €1
*Read 5 free articles per month without a subscription
Join now for unlimited access
Try first month for just £1 / $1 / €1