WADA could pursue Chris Froome case if UCI doesn't impose a ban, says former president
Dick Pound warns that case could drag on if it's taken to CAS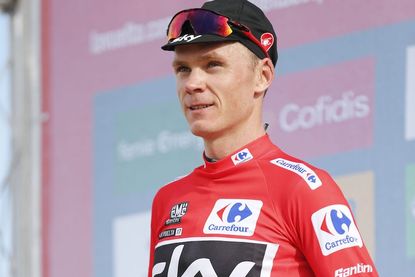 (Image credit: Yuzuru Sunada)
Chris Froome could still face the threat of sanctions for giving an adverse analytical finding (AAF) for the asthma drug salbutamol even if the UCI decides against imposing a ban, according to the former boss of the World Anti-Doping Agency (WADA).
Dick Pound, who was president of WADA between 1999 and 2007, said that he thinks that WADA could pursue the case even if Froome is cleared by cycling's governing body.
"If the UCI don't impose a sanction, then it's possible that WADA could step in," Pound told The Times. "If WADA steps in then I'd imagine it would go to CAS [Court of Arbitration for Sport] as a last resort."
>>> Chris Froome: 'My legacy won't be tainted'
Pound, who had numerous run-ins with Lance Armstrong during his time as WADA president, also said that the case could drag on for months depending on the attitude of the defence.
"If the defence is anxious to have it wrapped up, it can be done fairly quickly," Pound continued. "But if the defence is anxious about winning and adopts the normal tactic of delaying, that can take quite a time."
Froome, who insists he has done nothing wrong and is complying with the investigation, delivered an AAF for having a high concentration of salbutamol in his urine following stage 17 of the Vuelta a España in August.
>>> Everything you need to know about Chris Froome's salbutamol case
News of the UCI's investigation emerged in mid-December, with Froome not subject to a provisional suspension as salbutamol is classified as a "specified substance" by WADA rules.
Froome and Team Sky's legal team now have to prove that the high concentration of salbutamol was not as a result of the rider exceeding the maximum permitted dosage of 800 micrograms per 12 hours starting from any dose or 1,600 micrograms per 24 hours in divided doses, instead possibly claiming that the high concentration was as a result of Froome taking multiple puffs on his inhaler immediately after the stage so as not to cough in television interviews.
Thank you for reading 20 articles this month* Join now for unlimited access
Enjoy your first month for just £1 / $1 / €1
*Read 5 free articles per month without a subscription
Join now for unlimited access
Try first month for just £1 / $1 / €1