The truth about cycling and asthma
The use of asthma medication by professional cyclists is a controversial one, thrust into the limelight again as Chris Froome was found to have higher-than-permitted levels of salbutamol in a sample taken during the 2017 Vuelta a España. David Bradford hunts for the truth about the prevalence, effects and treatment of asthma among cyclists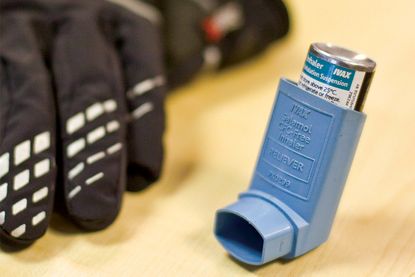 With the news that Chris Froome returned an adverse analytical finding for salbutamol at the 2017 Vuelta a España, the spotlight has once again fallen on the use of asthma medication in professional cycling.
Earlier in 2017, British Cycling, Team Sky and Bradley Wiggins came under scrutiny over the use of Therapeutic Use Exemptions (TUE) in relation to asthma medication after they were leaked by hacking group Fancy Bears.
Concerns over TUEs providing a grey area for some athletes to gain a performance advantage have never been far from the headlines over the past few years.
In April 2016, Simon Yates was banned after testing positive for terbutaline, a less potent asthma drug but one for which his team had failed to obtain the necessary TUE. All of which poses the question: what's the deal with asthma and cyclists?
Why do so many riders appear to require medication to help them breathe, and are they really gaining an advantage?
In March, Cycling Weekly spoke to another Olympic medallist cyclist whose asthma-related TUEs were leaked: sprinter Callum Skinner.
We also paid a visit to Dr John Dickinson, the UK's foremost expert on asthma in sport, to find out if breathing problems really do affect as many cyclists as pro-related stats seem to imply, and if so, whether us normal riders should be getting tested too.
>>> Chris Froome could face ban after abnormal drugs test result during Vuelta a España
Getting the lowdown
Dickinson is head of the respiratory clinic at the University of Kent, and carries out breathing assessments at Medway Park Sports Centre.
He has tested Olympians and elite athletes from almost every sport, including GB cyclists and members of Team Sky.
His slightly less illustrious job today is to check the airways of CW's art editor Dan Baines and photographer Dan Gould, while helping us understand why asthma has become such a hot topic in cycling.
The first point for Dickinson to clarify is why such a high proportion of elite cyclists apparently suffer from asthma.
An assessment of the British Cycling team before the 2004 Olympics showed that around 40 per cent had asthma compared to only about eight per cent of the general population. For Dickinson, this discrepancy stands to reason.
"Athletes are far more prone to asthma-related problems, mainly because of the environments they're exposed to and the conditions required by the sport, such as the high breathing rates over prolonged periods.
"Cycling is done outdoors, often in dry, polluted air — there are lots of reasons for the high prevalence."
Given that amateur riders are exposed to as many asthma-triggering factors as the pros perhaps even more in some cases, e.g. urban commuters breathing polluted air — we are just as likely to develop symptoms.
>>> Cyclists exposed to five times less air pollution than those in cars, experiment suggests
Does this mean that all of us should get tested? "Yes," says Dickinson, "when we work with squads of elite athletes, we test everybody — it clears up any doubt."
He explains that not all GPs are sufficiently equipped (or informed) to accurately assess asthma-related conditions such as exercise-induced bronchospasm (EIB), and sometimes prescribe medication without adequate investigation of the symptoms.
"[Many athletes] who have been given an inhaler find that it doesn't stop their symptoms, and then they can get panicky and start to doubt their [athletic] ability. It might be that they don't have asthma or not as the main cause of their symptoms. We can quantify the severity, and make them more aware of the causes."
There is a widely held suspicion that athletes get themselves diagnosed as asthmatic in order to access medications that will boost their performance, i.e. as a shady marginal gain.
Dickinson dismisses this theory as illogical and unfounded.
"We know that therapeutic doses of inhalers don't touch performance, so if you're a non-asthmatic taking a couple of puffs of salbutamol, it's not going to do anything for you. We have plenty of research proving that."
No silver bullet
That research has shown that beta-2 agonists, the swift-acting medications that in asthmatics relieve constriction in the airways, have negligible effect on performance among non-asthmatics.
It isn't possible to improve your ventilation or induce "super lungs" by puffing on an inhaler, adds Dickinson. "Endurance- wise, there is no advantage."
He cites one potential marginal gain from these drugs, but it's one he believes would be cancelled out by the inevitable side effects.
"A couple of studies have shown that if you take the maximum therapeutic doses [of inhaled beta-agonists], there is a potential to improve sprint performance but, to be honest, you'd have to take a shed-load, and the increased heart rate, shakes and palpitations would counteract the advantage."
What about for someone who does have asthma? Presumably their performance is markedly improved by taking effective medication?
"It's difficult to say because no studies have been done," Dickinson says, emphasising that the principal goal of asthma treatment is prevention, not performance.
"We're all about getting athletes to manage their condition. If you have a good prevention plan in place, you should eliminate the need to have a puff on the inhaler while riding. It's down to education. Good asthma management results in better quality training."
The commonly prescribed inhaled asthma medications, most of which are allowed without a TUE, would not significantly enhance performance even if they were abused, insists Dickinson.
Harder to resolve are suspicions surrounding the more potent tablet and injected forms of the asthma drugs called corticosteroids (or glucocorticoids), such as triamcinolone — the substance for which Wiggins was granted a TUE before the 2011 and 2012 editions of the Tour de France.
There is no doubting corticosteroids can be effective and necessary treatments for asthma and allergies, but questions remain over whether Wiggins's use of triamcinolone — a drug known to be performance-enhancing — was clinically and ethically justified.
Dickinson refrains from passing judgement on Wiggins, but admits: "I had to look up [triamcinolone] because I don't come into contact with athletes who are using it — it is stronger than oral corticosteroids.
If inhalers alone aren't working, you'd usually go to an oral corticosteroid; the intra-muscular forms are even stronger."
Such potent injections are prescribed only in cases where the asthma patient is seriously unwell, explains Dickinson.
But Wiggins was nearing his competitive peak. Was he really in a bad enough state to need this medication?
"It's difficult for me to say, not having assessed him at the time," says Dickinson,
"But sometimes I think the medics looking after those conditions think, let's make sure he doesn't have the problem [in subsequent training and racing] by using the strongest possible drugs available."
Prescribing in this way inevitably rouses suspicions, admits Dickinson.
"The difficulty is, should that athlete [once granted a TUE] then be allowed to compete, because we know of the potential performance-enhancing effects of that drug, and we know [given the medication] they might not be healthy enough to compete.
>>> David Millar: 'I took powerful, dangerous drug thanks to TUE loophole'
From a health as much as a performance point of view, maybe the rules should say, if you're taking that, you can't compete for two weeks."
In Dickinson's experience, only a tiny minority of riders with asthma-related problems apply for TUEs; nothing he has seen makes him suspect widespread foul play.
"It's quite rare. I think sometimes stronger drugs are resorted to earlier than they're really needed, but I've worked with only a handful of athletes who have needed an oral corticosteroid."
Whether Wiggins and his advisers were just being extremely cautious we may never know.
What we do know is that respiratory issues are very common among cyclists, and suspicions over certain rare treatments should not deter anyone from seeking medical assessment and, if necessary, treatment.
And, to back up those words with actions, step forward, Cycling Weekly's two Dans...
CW gets tested
CW art editor Dan Baines has no previous history of asthma but sometimes suffers from pollen allergies. He figured it would be worthwhile getting thoroughly assessed, if only for peace of mind.
The first test measures the amount of nitric oxide in the breath: levels above 25 parts per billion may indicate inflamed airways, a characteristic of asthma and some allergies. Dan scores 40 — no great shock, given his known allergies.
The next step is to measure the size and speed of his exhalation: the volume of each big breath and the time it takes to get it all out.
After a few big huffs, Dan hits a PB exhalation of 4.94 litres, 85 per cent of which is expelled within one second.
These are healthy numbers, according to Dickinson, well above the average for Dan's age (40) and stature (179cm, 76kg), and giving him a 'lung age' of 35.
Now for the critical part: Dan must breathe piped, dry air at around 85 per cent of his maximum ventilation rate for six minutes — as though he were riding briskly up a climb.
This procedure is designed to trigger an asthma response in anyone with susceptible airways.
Once the six-minute pant-athon is completed, after a short rest Dan has his peak puff retested, and achieves 4.73 litres, 83 per cent of which is exhaled within one second — only two per cent down on the initial test.
It's a textbook negative result, confirms Dickinson. If that latter figure (the proportion of air expelled within one second) had fallen by more than 10 per cent, Dan would have been facing an asthma diagnosis.
As it is, he's in the clear, but there is one more round of huffing for him to do...
Just to test Dickinson's assertion that asthma inhalers offer no advantage to those who don't have the condition, Dan takes a couple of puffs of salbutamol, then undergoes the maximal breath test once more.
The result is just as Dickinson predicted: no change from Dan's initial test — the salbutamol has had no effect.
Dan goes away knowing that his airways remain unconstricted even when provoked by harsh conditions — and, what's more, the temptation to take a cheeky pre-ride toke on his daughter's inhaler has been completely quashed!
A picture of health?
Just for fun, we coax CW photographer Dan Gould to the test bench.
He was diagnosed with asthma as a child but in recent years has foregone medication in an attempt to 'train through' the symptoms.
In the first test, for exhaled nitric oxide, Dan G produces a result of 100 parts per billion — four times higher than the 25 threshold, indicating significantly inflamed airways.
In the next test, establishing a baseline, he exhales 5.09 litres in total but only 3.29 litres of it, 65 per cent, within one second, which for Dickinson is a conspicuous red flag.
It's the kind of lung function he would expect in someone in their late 50s. Dan is 28.
Not so confident about training his asthma into submission, Dan takes a dose of salbutamol and resits the test. This time, he exhales 3.71 litres of the total within one second — a 10 per cent improvement.
"This is a significant reversal of airway constriction," says Dickinson, hiding his bewilderment that Dan has shunned treatment for so long, "and evidence of an asthmatic condition."
He calmly explains to Dan that taking medication will have multiple benefits: keeping his airways open, improving exercise performance, and quite likely limiting the long-term damage and deterioration that can result from inflammation.
'Let's not forget, TUEs are for athlete welfare'
Callum Skinner, who won gold and silver medals at the Rio Games, spoke to CW about the leak of his TUEs and why he responded by publishing his NHS medical records.
Skinner's TUE certificates, leaked after the Rio Olympics, show that he was prescribed oral prednisolone, a glucocorticoid, on November 6, 2014, shortly before the London round of the Track World Cup; and the beta-2 agonist salbutamol for two days, January 25-26, 2016.
He responded by publishing NHS records showing that he has suffered from asthma since childhood and has four times been admitted to hospital.
Was he aware of the potential performance-enhancing effects of prednisolone before taking it during competition?
"No. For me, the TUEs were purely for health reasons."
"As my health records show, I was prescribed prednisolone on two or three occasions as a child. It was a substance that had been previously helpful for my health."
Is it a substance he has also taken out of competition, when no TUE is required?
"I'd have to consult my notes, but maybe. As you can see in my childhood medical history, it was a bit of a go-to treatment, so I wouldn't be surprised."
Skinner is quick to point out that at the competition in question, the 2014 London Track World Cup, his performance was "one of the worst of my career" — implying that the prednisolone proved unhelpful, and supporting his reflection that "I should have been tucked up in bed".
>>> Who is Callum Skinner, Britain's new star sprinter?
Indeed, Skinner says that in similar circumstances the following year he opted not to compete — despite competitive pressures: "[Missing major events] is quite dangerous in an Olympic year because if you step out of that position as man-three, there is always someone there who is willing to pick it up."
He is reconciled to the realisation that sometimes rest is the only sensible option.
"That's the strategy now, where if my chest is compromised, we probably won't be applying for an in-competition TUE. Unfortunately, we'll need to step back from competition and recover."
Is this change in approach partly to avoid further TUE controversy? "No. If there was a TUE that was genuinely needed for my health, I would have no apprehension in applying for it. I think this is where it could get a little bit dangerous for athletes going forward because these [TUEs] are fundamentally for athlete welfare, that's their first purpose, and it's important that is respected."
I moot to Skinner the idea that certain TUEs should come with a stipulation that the athlete take a week or fortnight's break from competition, for health as well as anti-doping reasons.
"That could be a good step forward," he says, "but there are lot of complexities in the TUE system, and different people respond to these treatments very differently.
"I think ultimately it has to be at the doctor's discretion."
Would Skinner encourage other pro cyclists to follow his example and disclose medical records to help foreground their TUEs?
>>> Callum Skinner publishes medical records to prove his 'asthma is real'
"I think that's personal. I felt backed into a corner a little bit [when my TUE] documents were put out with no context attached to them...
"It's a shame we're at this point where we have to continually give up more and more privacy to protect clean sport, but if that's necessary, then for me.
"Clean sport is more important than my own privacy."
Are asthma meds performance-enhancing?
CW spoke to Morten Hostrup, assistant professor in human and molecular biology at the University of Copenhagen, who researches the effects of asthma medications on exercise performance.
What are the effects of injected corticosteroids such as triamcinolone on performance?
There are acute effects after having an injection, including a glycogen-sparing effect, which would be good in an endurance race such as a stage race, because it would boost fat oxidisation and release more glucose from the liver into the bloodstream. That would last for several hours.
These drugs have a central effect as well, inducing a feeling of euphoria or improved mood, which may blunt fatigue.
David Millar claimed that triamcinolone had a powerful effect on reducing his body fat. Is that feasible?
Yes, these substances mobilise your fat stores and increase your oxidation of fats, particularly if used in combination with other drugs such as beta-agonist asthma drugs, which boost energy expenditure.
Would Wiggins have benefited from the injections he had before major stage races in 2011, 2012 and 2013?
It depends on the way he took it and how much he took. If he did use it, it may be that he had some advantage, but it's highly individual, so it's difficult to say.
He followed the rules, so I wouldn't want to speculate.
Are the current rules governing the use of asthma medications sufficient, in your view?
The current regulations are in some ways lenient, in that, out of competition you are allowed to use [glucocorticoids] as you wish.
If you want to use them in competition, a TUE is required, but it's known from former dopers that they got a TUE to use, say, a skin cream but then just got it in intravenous or intramuscular form.
For sure, you can misuse the current regulations; this is how it will always be with doping restrictions — grey areas on the edge of what's ethical.
What about the more common asthma drugs for which no TUE is needed, could these enhance performance?
With inhaled medications, 70-80 per cent of the drug will at some point reach the systemic circulation through the capillary network around the lungs, and will be distributed to your entire body. The effects depend on the dose you inhale.
A study we did this year showed that four puffs of a substance called budesonide, if taken daily for 14 days, causes a 17 per cent increase in skeletal muscle ion transporters, which may affect muscle endurance.
This was interesting because it showed that only four puffs was enough to induce a systemic response. It's a misconception that when you inhale a drug it stays in the lungs.
As regards inhaled glucocorticoids, only two or three have been studied to find out if they can enhance performance. What we know is very limited.
More research is needed?
Yes, it is important for me to emphasise that there is not much research in this area. For instance, compared to blood doping, where there is maybe 100 studies [on the performance effects], there is only a handful of studies on glucocorticoids.
Are you breathing right?
Not all exercise-related breathing troubles are caused by asthma — as John Dickinson explains.
"Quite often, the problem is an athlete using too many accessory muscles to breathe; they switch from using breathing muscles in the chest to shoulder-breathing.
"This increases breath frequency but reduces the amount of air per breath and restricts chest wall movement.
"With these athletes, we work on generating a fast breath that is also a deep breath. Usually within four to eight weeks, we can correct a breathing dysfunction problem, or at least make some gains."
Is there an optimum breathing rate?
It depends on the fitness of the individual, but even at VO2max, it should be somewhere between 45 and 60 breaths per minute, usually 50-60.
That's at the very top end of exercise. If someone's breathing at too fast a rate, they may experience dizziness, seeing stars — that's an indication of over-breathing, breathing off too much carbon dioxide.
Any other common problems?
Sometimes it's a laryngeal obstruction — when you hear people with a respiratory wheeze, that is usually the cause.
This is more to do with the way you are activating your breath. Lots of education needs to be done, more than anything.
Where to get tested
If you think you're experiencing asthma-type symptoms during or after cycling, going to see your GP is not a bad first port of call, but don't take it for granted that he or she will get to the root of the problem.
"Generally GPs will measure baseline lung function and sometimes just a peak- flow test," says John Dickinson.
"Asthma can get missed. Our research suggests that going on baseline lung function alone is 50 per cent inaccurate."
Assessing exercise-induced issues requires a respiratory test that involves or simulates exercise, adds Dickinson.
These tests can be carried out on the NHS but only in certain areas.
If you're willing to pay, you can get the full test (as detailed in this feature) plus assessment by a respiratory consultant at the Centre for Health and Human Performance, in Harley Street; email: info@chhp.com.
The test alone can be carried out at the University of Kent Respiratory Clinic, Medway Park Sports Centre, Gillingham; email: J.W.Dickinson@kent.ac.uk.
Thank you for reading 10 articles this month* Join now for unlimited access
Enjoy your first month for just £1 / $1 / €1
*Read 5 free articles per month without a subscription
Join now for unlimited access
Try first month for just £1 / $1 / €1
David Bradford is fitness editor of Cycling Weekly (print edition). He has been writing and editing professionally for more than 15 years, and has published work in national newspapers and magazines including the Independent, the Guardian, the Times, the Irish Times, Vice.com and Runner's World. Alongside his love of cycling, David is a long-distance runner with a marathon PB of two hours 28 minutes. Having been diagnosed with retinitis pigmentosa (RP) in 2006, he also writes about sight loss, equality and social affairs.