Are asthma medicines unofficial performance enhancing drugs?
Do airway-widening drugs enhance performance, asks George Winter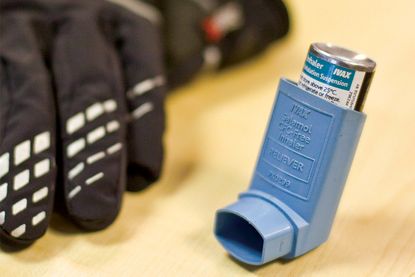 Only 17 per cent of the cyclists who competed in the 2008 Olympics were registered as asthmatic, but these athletes won 29 per cent of the individual medals. Could there be a connection to asthma medication?
>>> Everything you need to know about Chris Froome's salbutamol case
>>> The truth about cycling and asthma
Exercise-induced asthma (EIA) is a temporary narrowing of the airways during or after exercise, causing coughing and shortness of breath.
EIA can be relieved by using inhaled beta-2 agonists (IBA) such as salbutamol — the active ingredient in Ventolin inhalers which relaxes the smooth muscle cells surrounding airways, for easier breathing.
Even though IBAs are on the World Anti-Doping Agency's (WADA) list of prohibited substances, asthmatic cyclists are permitted by the International Olympic Committee to take inhaled IBAs such as salbutamol up to a maximum of 1600μg/day (micrograms a day) — i.e. without requiring a therapeutic use exemption (TUE).
It has been shown that orally ingested beta-2 agonists can increase exercise performance, but what about the inhaled forms?
A recent study investigated whether inhaling 1600μg of salbutamol would improve time trial performance in 20 trained male cyclists, with and without asthma. Since IBA doses are not calculated according to body weight, it was assumed that lighter cyclists would benefit more than heavier ones.
The researchers found that inhaling WADA's maximum permitted dose of salbutamol allowed the cyclists to breathe more easily, yet their performance did not improve, perhaps owing to side effects of the drug.
Further research under way aims to determine whether the same effects are found in female cyclists.
This article was modified on January 6 to clarify that no TUE is required for salbutamol below a dosage of 1,600 micrograms.
Thank you for reading 20 articles this month* Join now for unlimited access
Enjoy your first month for just £1 / $1 / €1
*Read 5 free articles per month without a subscription
Join now for unlimited access
Try first month for just £1 / $1 / €1