Diego Ulissi fails anti-doping test from Giro d'Italia
Double Giro d'Italia stage winner's urine test was above the limit for Salbutamol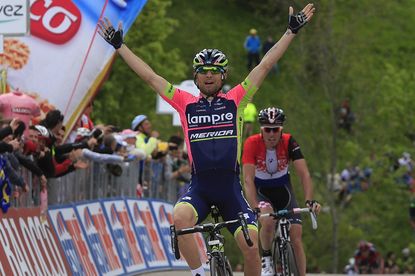 (Image credit: watson)
Italian Diego Ulissi failed an anti-doping test at the Giro d'Italia, where he won two stages, according to a statement from team Lampre-Merida today.
The Italian WorldTour team said that the UCI reported that he tested above the allowed limit for Salbutamol on May 21, at the end of stage 11 to Savona. The results of a urine test showed "an abnormal amount of Salbutamol (1900 ng/ml), higher than the limit allowed by the regulations, which sees the limit at 1000 ng/ml."
The 24-year-old from Tuscany won two uphill stages, the fifth one to Viggiano and the eighth one to Montecopiolo. He abandoned after stage 17 to Vittorio Veneto after taking antibiotics to fight a sore throat and temperature.
"It is important to point out that Diego Ulissi, accompanied by Dr Carlo Guardascione (head team doctor) had declared in his statement taken prior to the anti-doping control, the assumption before the race of Ventolin (2 puffs, equivalent to 100 ng of Salbutamol each) and paracetamol during the race, the latter given by the race doctor due to the crash which occurred during the stage in which he had been involved with many other athletes," Lampre said in its statement.
"The athlete himself and the medical staff of the team will continue to explore the reasons why the urine has been identified as having an abnormal and high presence of Salbutamol, compared to only two inhalations performed."
Lampre provisionally suspended Ulissi according to anti-doping rules and reported that Ulissi wants to undergo tests to help explain the reading.
Many riders in the peloton use inhalers with Salbutamol to treat asthma. The issue came to light during the Critérium du Dauphiné two weeks ago when television cameras showed Chris Froome puffing on an inhaler prior to winning the Col du Béal stage.
According to UCI rules, therapeutic use exemption (TUE) is only needed to treat asthma only if an athlete is using over a certain amount. You do not need an exemption for Salmeterol, Salbutamol (up to a daily dose of 1600 micrograms) and/or Formoterol (up to a daily dose of 54 micrograms). Terbutaline requires an exception.
Some inhaler cases brought bans. Alessandro Petacchi served a ban after testers found excess levels of Salbutamol in his body. He said that he accidentally took too many sprays in the day. Igor González de Galdeano and Matteo Trentin also served bans.
Calls made to tighten up the Union Cycliste Internationale's procedure for administering Therapeutic Use Exemption certificates
Sky's leader was filmed puffing on an asthma inhaler during stage two of the Criterium du Dauphine
Thank you for reading 5 articles this month* Join now for unlimited access
Enjoy your first month for just £1 / $1 / €1
*Read 5 free articles per month without a subscription
Join now for unlimited access
Try first month for just £1 / $1 / €1