Chris Froome is back on Strava and the rides he's been uploading are incredible
Just the 31 hours last week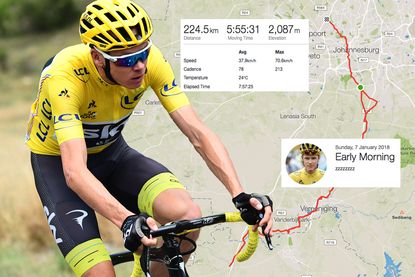 (Image credit: ASO/Alex Broadway/Strava)
While the likes of Thibaut Pinot and Romain Bardet have been regular users of Strava for a number of years, one big name has always been missing... until now.
Chris Froome's New Year's Resolution seems to be to upload his rides to Strava, putting rides online every day since the start of the year.
As you would expect from a man targetting both the Giro d'Italia and the Tour de France in 2018, these are some pretty monstrous base miles, with Froome kicking off the year with a 32-hour week in which he rode more than 1,000km - more than most of us will manage in a month!
>>> Tom Dumoulin could challenge Chris Froome in quest for Giro/Tour double in 2018
The Team Sky rider started as he meant to go on, knocking off a solid 157km interval session on New Year's Day from his base to the north of Johannesburg, South Africa.
The following day saw him out for another ride of more than six hours and nearly 200km, switching between his road and time trial bike mid-ride, before a spot of off-road action with the final few kilometres being completed on his mountain bike.
Watch: Top 10 riders of 2017
A 13km mountain bike recovery ride came the following day, before three more big days of road riding including 100 miles on his time trial bike completed at an average speed of more than 36kmh (and that's including nearly 2,000m of climbing).
However Froome's biggest ride of the year so far came on Sunday when he set his alarm early to be out of the door at 5am for a 224.5km ride with an astonishing average speed of 37.9kmh.
>>> Seven riders with a point to prove in 2018
Unsurprisingly, that effort saw him pick up a fair few KOMs with more than 1,300 people giving Froome "kudos" as he put in the big miles in temperature that ramped up to nearly 40ºC by the end of his ride.
Back in 2016 there was speculation over whether Froome had joined Strava under the alias of "Luke Skywalker", when a rider of that name was spotted riding with Team Sky rider Ian Boswell at the same time as Froome was known to be riding with the American in South Africa.
We'll be hoping that Froome keeps on uploading his rides to Strava throughout the 2018 season, giving a fascinating insight into the training regime of the four-time Tour de France winner.
Thank you for reading 20 articles this month* Join now for unlimited access
Enjoy your first month for just £1 / $1 / €1
*Read 5 free articles per month without a subscription
Join now for unlimited access
Try first month for just £1 / $1 / €1