Chris Froome explains why he thinks he can win the Giro d'Italia and Tour de France in 2018
Team Sky rider aiming to become the first ride to win both races in the same year since 1998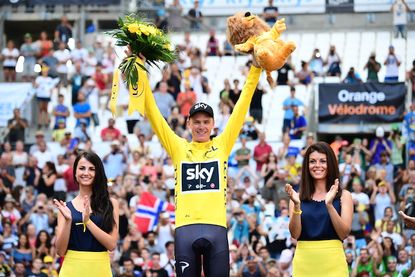 (Image credit: ASO/Alex Broadway)
Finally confirmed as racing the Giro d'Italia in 2018, Chris Froome has spoken about the reasoning behind his decision to take on the fabled Giro d'Italia/Tour de France double, and why he thinks he can complete the feat.
Froome, who will be attempting to become the first rider in 20 years to win the Giro d'Italia in the same year as the Tour, said that he wanted to do something special as he returned to the Giro for the first time since 2011.
"It's a unique situation for me, having won the Tour and Vuelta and now having the opportunity to go to the Giro and attempt to win a third consecutive Grand Tour," the Team Sky rider said.
"It's really exciting to be able to take on a new challenge, to do something that perhaps people wouldn't expect and to mix it up. It's a whole new motivation for me to see if I can pull off something special next year.
"I feel as if my cycling career started in Italy in some ways. I lived there for three years when I began my career as a professional, so having the opportunity to go back to the Giro in the position I am now in, and with the opportunity I have, feels in some ways like completing a circle."
>>> Giro d'Italia 2018 route: Full details revealed including eight summit finishes and two time trials
If he manages to win both the Tour and the Giro in 2018, it will be the first time that any rider has achieved that feat since Marco Pantani in 1998. Nairo Quintana attempted it in 2017, finishing second in the Giro before riding to a disappointing 12th place at the Tour.
However Froome said that winning the Tour and the Vuelta a España back-to-back in 2017 had given him the confidence to take on the challenge, with the later start date of the Tour (due to the Football World Cup) also helping next year.
"It's something the team have considered carefully and we've talked about a lot. We know that it would be a significant feat in the modern era to win both the Giro and the Tour in the same season, but the way we managed things this year gives me confidence that I can successfully target both races," Froome continued.
"Another factor is that there is an extra week between next year's Giro d'Italia and the Tour de France. That's one more week for recovery and for training than there would be normally, which I think potentially makes it more manageable and conducive to being able to hit both races in great shape."
Watch: Tour de France 2018 route guide
One man who would have been closely involved in the decision is Team Sky general manager Dave Brailsford, who said that the team had thought long and hard about whether the decision to ride the Giro was a wise one, and if that could impact on Froome's ability to win a fifth Tour de France in July.
"It's something that we have looked at in detail as a team. Some of the very best riders have attempted to win the Giro d'Italia and Tour de France in the same season but very few have been successful, so it's a challenge we have enormous respect for," Brailsford said.
>>> Comment: This is Chris Froome's best chance of winnging BBC Sports Personality Award
"But it's challenges like this that speak to what we're about as a team – setting ambitious targets, preparing for them properly and being ready to put it all on the line.
"Chris has established himself as one of the greats of our sport. He's certainly one of its fiercest competitors, and the great competitors take on the biggest challenges.
"We're really excited about 2018. This is a new motivation for the whole team and something that all those who follow our sport can be excited about too."
Thank you for reading 20 articles this month* Join now for unlimited access
Enjoy your first month for just £1 / $1 / €1
*Read 5 free articles per month without a subscription
Join now for unlimited access
Try first month for just £1 / $1 / €1