It would be easier for everyone if Team Sky suspended Froome, says UCI boss
David Lappartient says he expects Chris Froome's salbutamol case to drag on throughout 2018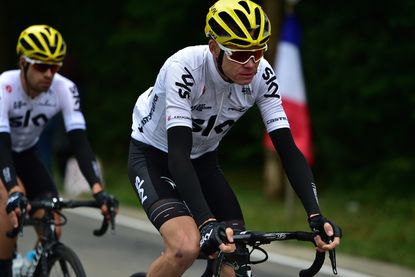 (Image credit: ASO/Pauline BALLET)
Team Sky should stop Chris Froome from beginning his 2018 campaign next month, says UCI boss David Lappartient.
Froome tested for twice the legal limit of asthma drug salbutamol after the 18th stage of the Vuelta a España. The case, leaked to the media, is still being examined and could drag on for a year.
Both Chris Froome and Team Sky deny any wrongdoing. Froome immediately commented on the case when it emerged in the Guardian and Le Monde newspapers. He said that his asthma problems are "well-known" and that he and the team would "provide whatever information it requires."
>>> Chris Froome anti-doping investigation should not have been made public, says British Cycling boss
"Team Sky should suspend Froome," Lappartient told newspaper Le Telegramme.
"It's not up to me to interfere. Without wishing to comment on the rider's guilt, it would be easier for everyone [for Team Sky to suspend Froome]."
Froome's urine read 2000 nanograms per millilitre (ng/ml), twice the 1000 limit. He will reportedly argue a kidney problem led to the high reading.
He won the Vuelta a España overall on the heels of a fourth Tour de France title. Froome is due to start his season next month, perhaps in the Ruta del Sol stage race in spain, and compete in the Giro d'Italia in May and the Tour in July.
Already in December after the anti-doping test result emerged, the Movement for a Credible Cycling (MPCC) asked Team Sky to voluntarily suspend the 32-year-old Brit while the medical and legal experts work.
Less than half of the WorldTour teams, including Dimension Data, follow the MPCC's stricter guidelines. Those rules would see a rider benched in such cases, but Team Sky is not one of the WorldTour teams part of the group.
Frenchman Lappartient, elected in September, puts greater pressure on Team Sky's management, including boss David Brailsford, and Froome to take action.
http://www.youtube.com/watch?v=WWVoFpEyh_I
"It's up to Brailsford to take his responsibilities," Lappartient added. "Quite apart from that, I think that's what the other riders want. They're fed up with the general image."
Froome's group is preparing the documents to show its case to the Cycling Anti-doping Foundation (CADF). Any outcome could be appealed to sport's high court CAS by either Froome or the World Anti-Doping Agency (WADA), which said it would act if Froome escaped sanction.
"It's going to be a judicial battle that will last a long time," added Lappartient. "This affair won't be sorted out in two minutes, it could last at least a year."
"We're in the hands of the experts. It's up to Froome to demonstrate the reasons for such a high level of salbutamol, it's up to him to prove his innocence."
Thank you for reading 20 articles this month* Join now for unlimited access
Enjoy your first month for just £1 / $1 / €1
*Read 5 free articles per month without a subscription
Join now for unlimited access
Try first month for just £1 / $1 / €1