Lance Armstrong warned about attending Tour of Flanders events by UCI president
David Lappartient says that Lance Armstrong's attendance of events at the 2018 Tour of Flanders is 'not a good idea'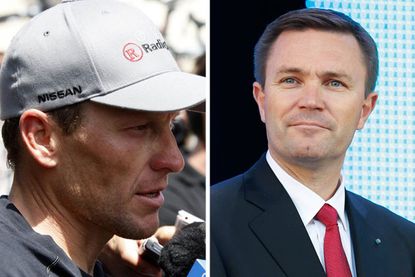 (Image credit: Yuzuru Sunada)
UCI president David Lappartient has sent a warning to Lance Armstrong to stay away from the events surrounding the Tour of Flanders in Belgium on April 1.
Armstrong, stripped of his seven Tour de France titles for doping, is due to attend the inaugural Tour of Flanders Business Academy as a special guest speaker following an invitation from the race organiser.
"It's not a good idea," Lappartient told Neue Zürcher Zeitung. "I gave my opinion to the organiser Wouter Vandenhaute in an intensive conversation.
"Armstrong is a free man, I can't block him from speaking in a Belgian university on the Friday [March 30] before the race. Nevertheless, it's not good for cycling.
"I wrote a letter to Armstrong to make sure he doesn't appear at the amateur race on Saturday or on Sunday [alongside the professional's race]."
>>> 'Lance Armstrong's invitation to the Tour of Flanders is absolutely reprehensible'
It is unclear how the UCI could block Armstrong from the sportive event on Saturday or attending the professional race, perhaps in one of the many VIP tents, on Sunday.
Pressure may stop the 46-year-old Texan, who in 2012 received a lifetime ban for cheating with EPO, testosterone and blood transfusions during his career. Last summer, the organiser of the Colorado Classic event in America cancelled its planned deal for Armstrong to air his podcast alongside its race.
Asked if it is the same with German Jan Ullrich, Armstrong's Tour rival, Lappartient said, "Now, we have to shape the future and not court these riders again."
http://www.youtube.com/watch?v=5Gd0He4cDNg
Following the Armstrong case in 2012, the UCI launched the controversial Cycling Independent Reform Commission (CIRC) and invited everyone to speak about any doping activity.
Several former dopers remain prominent in cycling despite their dark pasts. Danish 1996 Tour winner Bjarne Riis ran top team CSC/Saxo Bank for years, Alexandre Vinokourov heads Team Astana and Frenchman Richard Virenque attends the Tour as a special guest each year.
"Cycling has its dark past, but whoever only focuses on the past will not survive. The limit is 2011, those caught after that have lost their place in cycling. And of course there are riders with lifelong bans like Lance Armstrong," continued Lappartient.
>>> Tour Down Under 'still benefiting from Lance Armstrong's legacy', says race director
"With Riis and Vinokourov? There is a big difference here. Vinokourov was banned and paid for his behaviour. Riis didn't.
"He confessed, but Riis didn't have a good image in the peloton even when he was active. There are people I can't legally do anything with, but I don't want them to be in cycling. The return of people like Riis or Michael Boogerd is not good."
In Belgium, Armstrong's invitation has received mixed reactions. Sports Minister Philippe Muyters told Sporza, "It's a marketing stunt. You created an event for a doping sinner and that is a totally wrong signal for the clean athletes."
Thank you for reading 20 articles this month* Join now for unlimited access
Enjoy your first month for just £1 / $1 / €1
*Read 5 free articles per month without a subscription
Join now for unlimited access
Try first month for just £1 / $1 / €1