Tour Down Under 'still benefiting from Lance Armstrong's legacy', says race director
Armstrong 'took the race to a whole new level' between 2009 and 2011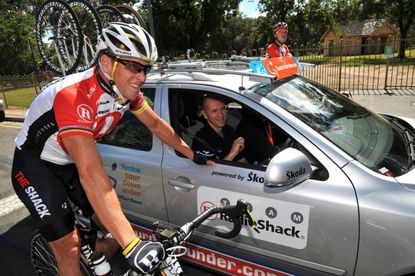 (Image credit: Watson)
The Tour Down Under is still benefiting from the appearances of Lance Armstrong at the race in 2009, 2010, and 2011, according to the race's director.
Mike Turtur, who has been the Tour Down Under's race director since its inception in 1999, said that Armstrong's decision to take part in the race on three occasions, including having it as his final professional race in 2011, had provided a lasting legacy that the race was still enjoying.
"His presence, the returned benefits to the race and to this state and to awareness around cancer … money cannot buy," Turtur told The Advertiser.
"The smallest increase that we saw was 100 per cent, it was staggering, and we are still benefiting from that legacy."
>>> Watch: Here's why Team Sky were stopped by police on a Tour Down Under training ride (video)
Those sentiments were echoed by Leon Bignell, Australia's Minister for Tourism and Minister for Sport, who said that Armstrong's participation elevated the Tour Down Under's profile to new levels, helping to reach people who would otherwise have not been interested in the event.
"Lance Armstrong's appearance at the Santos Tour Down Under came at a time when he was considered the greatest cyclist in the world," Bignell said.
"He brought the eyes of the world with him to South Australia when he rode in the Tour Down Under, taking the race to a whole new level. The State Government has continued to leverage this exposure, ensuring crowd numbers continued to climb even after Lance's final appearance.
Watch: Tour Down Under essential guide
http://www.youtube.com/watch?v=OQVwaVGJgzI
Armstrong competed in the Tour Down Under on three occasions between 2009 and 2011, first with Astana in the year of his comeback after three years away from the the sport, and then with Radioshack, never finishing higher than 24th overall in the event.
Armstrong is reported to have been paid $1 million by the South Australian state government for each of the years he took part, although the exact figure has never been disclosed.
18 months after his final appearance at the Tour Down Under, Armstrong admitted doping for much of his professional cycling career (although claiming that he was clean while riding at the Tour Down Under), being given a lifetime ban from the sport.
Thank you for reading 20 articles this month* Join now for unlimited access
Enjoy your first month for just £1 / $1 / €1
*Read 5 free articles per month without a subscription
Join now for unlimited access
Try first month for just £1 / $1 / €1