Watch: Here's why Team Sky were stopped by police on a Tour Down Under training ride (video)
Video shows good-natured discussion between police and riders after make an illegal right turn and go through a red light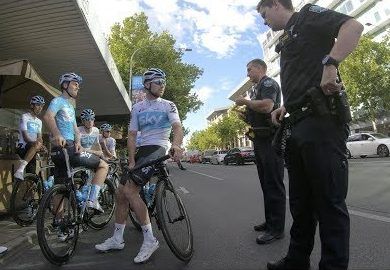 One of a number of teams who were pulled over by police as part of a safe cycling initiative in South Australia, a video has emerged showing exactly why Team Sky were stopped, and their discussions with the officers.
In the video posted on YouTube by a local rider who had been following the team as they made their way out of Adelaide on Monday for a pre-Tour Down Under training ride, the riders on the team are shown committing a couple of traffic offences, before being pulled over for a talking to from police officers.
In the footage, the team's riders are shown making a right-turn at a junction where traffic is only allowed to turn left or carry straight on, with the video's uploader saying that the team should have seen the "no right turn" sign.
>>> Chris Froome is back on Strava and the rides he's been uploading are incredible
It is at this point that the team is spotted by a police vehicle on the opposite side of the junction, as the riders are forced to come to a stop as pedestrians continue to cross the road.
A little further up the road and the team stop at a red light at a pedestrian crossing, stopping as required a pedestrian cross in front of them, but then not waiting for the light to turn green before continuing across the crossing.
By the next junction the police have caught up with the riders, asking them to pull over at the side of the road a little further ahead.
The uploader of the video as well as two other amateur riders are also included in the police's talking-to, which is good-natured as the riders seem to accept that they were wrong to go through the red light and make the right-hand turn.
>>> Three debutants earn places in youthful Team Sky for Tour Down Under
The officers then go through the group, taking the names of the riders as they recorded that they had spoken to them as part of South Australia Police's "Operation Safe Cycling" initiative.
The video ends with the uploader of the video praising the police for their work, saying that they were just doing their jobs of educating riders on safer riding and looking to speak to as many cyclists as possible as part of the safety initiative.
A number of teams have been pulled over by police as part of Operation Safe Cycling which "is focused on the two-wheeled community – both in terms of ensuring they know and obey the laws, but also to protect them from other motorists who need to take care around bike riders."
Thank you for reading 20 articles this month* Join now for unlimited access
Enjoy your first month for just £1 / $1 / €1
*Read 5 free articles per month without a subscription
Join now for unlimited access
Try first month for just £1 / $1 / €1