Team Sky riders stopped by police in Australia ahead of Tour Down Under
Several professional riders spoken to by South Australia police as part of 'Operation Safe Cycling' ahead of WorldTour opening race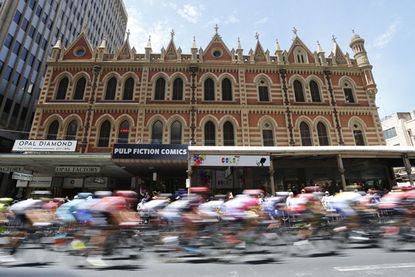 (Image credit: Yuzuru Sunada)
Members of Team Sky and other professional cycling teams were stopped by South Australia police in Adelaide on Monday (January 8) as part of 'Operation Safe Cycling' ahead of the Tour Down Under, which starts in the city on Tuesday, January 16.
Team Sky riders were photographed talking to police officers after reportedly being stopped on Pulteney Street, in Adelaide's central business district (CBD), after committing traffic offences, reports the city's Advertiser website.
"The group was verbally educated about safe cycling in the CBD," SAPOL said in a statement published by the Advertiser.
Exact details of the specific offences committed have not been reported.
Separately, a rider from another team was filmed by a member of the public holding onto a car in Adelaide Hills and reported to police.
>>> Tour Down Under 2018: Latest news, reports and race info
SAPOL started Operation Safe Cycling on January 6 to "keep cyclists safe on the state's roads". In a SAPOL statement, it said that the number of cyclists on the roads in Adelaide increases dramatically around the time of the Tour Down Under.
"We hear a lot of complaints about cyclist behaviour, and in turn we know that they are vulnerable road users who come off second-best when they get in any form collision," said Superintendent Anthony Fioravanti, who is in charge of SAPOL's Traffic Support Branch.
"Operation Safe Cycling is focused on the two-wheeled community – both in terms of ensuring they know and obey the laws, but also to protect them from other motorists who need to take care around bike riders.
"We can, and will, enforce the law, but I would plead for all road users to show some basic courtesy and share the roads."
>>> Three debutants earn places in youthful Team Sky squad for Tour Down Under
According to SAPOL's statistics there were 721 crashes involving 752 cyclists, which resulted in 648 casualties in 2017. This included two deaths and 40 serious injuries.
The Tour Down Under is the opening race of the 2018 UCI WorldTour, and runs from Tuesday, January 16, to Sunday, January 21.
Thank you for reading 20 articles this month* Join now for unlimited access
Enjoy your first month for just £1 / $1 / €1
*Read 5 free articles per month without a subscription
Join now for unlimited access
Try first month for just £1 / $1 / €1