Lance Armstrong and former US Postal team-mates finish third as they return to racing together
Lance Armstrong, George Hincapie, Christian Vande Velde, and Dylan Casey finish third in the 24 Hours in the Old Pueblo mountain bike race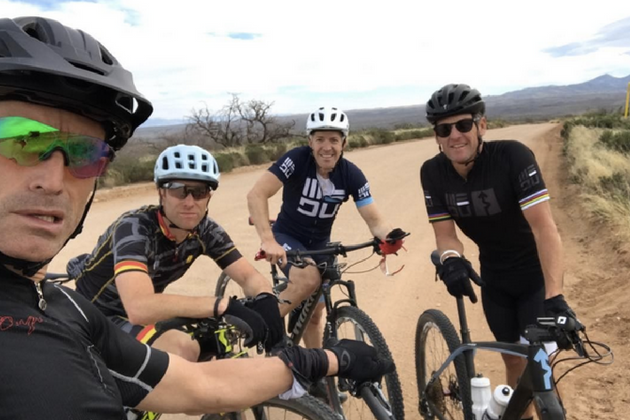 (Image credit: George Hincapie/Instagram)
Lance Armstrong and three of his former US Postal team-mates finished third as they reunited for a 24 hour mountain bike endurance race.
>>> Lance Armstrong fails to block $100m lawsuit
Competing in the 24 Hours in the Old Pueblo, Armstrong teamed up with George Hincapie, Christian Vande Velde and Dylan Casey all of whom were team-mates at US Postal between 1999 and 2002, with Hincapie and Vande Velde supporting Armstrong at the Tour de France.
Riding in the four-man relay category, the team were given a flying start by Armstrong, who set the team's fastest lap of the race with a time of 58-28 on the hilly, off-road, 16 mile circuit. However Armstrong also set the team's slowest lap of the race when he rode a 1-14-49 midway through the night.
>>> Lance Armstrong narrowly beaten into second place in US gravel race
Despite being made up entirely of former professional riders, Armstrong and co.'s WEDU team were comprehensively beaten by the "Nine Inch Males" team, who rode 24 laps over the course of the 24 hour race. The race for second place was much closer, with Hincapie making up more than half a minute in the final lap, just missing out on overtaking the second-placed "Stan's No Lube" team by three seconds.
Armstrong is currently banned from competing in UCI and USA Cycling-sanctioned races, but is allowed to ride in unsanctioned races such as the 24 Hours in the Old Pueblo.