Lance Armstrong fails to block $100m lawsuit
'Whistleblower' lawsuit against Lance Armstrong and Tailwind Sports will now go before a jury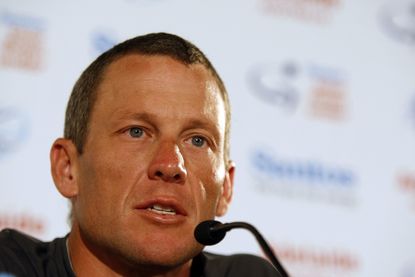 (Image credit: Yuzuru Sunada)
Lance Armstrong and his legal team have failed to stop a $100 million (£79m) 'whistleblower' lawsuit against him. A judge ruled on Monday that the case should go before a jury.
The lawsuit against the American former professional rider was initially filed by his former US Postal team-mate Floyd Landis under the False Claims Act. Landis was later joined by the US Justice Department.
The premise of the case is that Armstrong and the Tailwind Sports management company that owned the US Postal team, defrauded the government out of funds as Armstrong and other members of the team used performance-enhancing drugs.
>>> Lance Armstrong: I can't afford to lose $100 million in legal case
Armstrong won seven editions of the Tour de France between 1999 and 2005, but later admitted to doping and had the wins stripped and was banned from cycling for life in 2012.
Armstrong attempted to have the 'whistleblower' case thrown out, arguing that the benefit to the US Postal Service in terms of exposure outweighed the money it gave the team through sponsorship.
However, Judge Christopher Cooper of the US District Court for the District of Columbia denied Armstrong's motion on Monday, February 13, saying:
"Because the government has offered evidence that Armstrong withheld information about the team's doping and use of PEDs and that the anti-doping provisions of the sponsorship agreements were material to USPS's decision to continue the sponsorship and make payments under the agreements, the Court must deny Armstrong's motion for summary judgment on this issue."
>>> Lance Armstrong to race again with U.S. Postal team-mates
The case will now be presented in front of a jury at a future date.
Landis stands to obtain 25 per cent of any money recovered from Tailwind Sports and Armstrong. The total is estimated to be three times the $32.3 million sponsorship money US Postal paid to the team.
Armstrong has previously said that he does not have $100m, and would stand to lose all of his remaining fortune.
Thank you for reading 20 articles this month* Join now for unlimited access
Enjoy your first month for just £1 / $1 / €1
*Read 5 free articles per month without a subscription
Join now for unlimited access
Try first month for just £1 / $1 / €1