Lance Armstrong: I can't afford to lose $100 million in legal case
Lance Armstrong says his case in the forthcoming whistleblower lawsuit brought by former US Postal team-mate Floyd Landis is strong, but he doesn't have $100 million to give away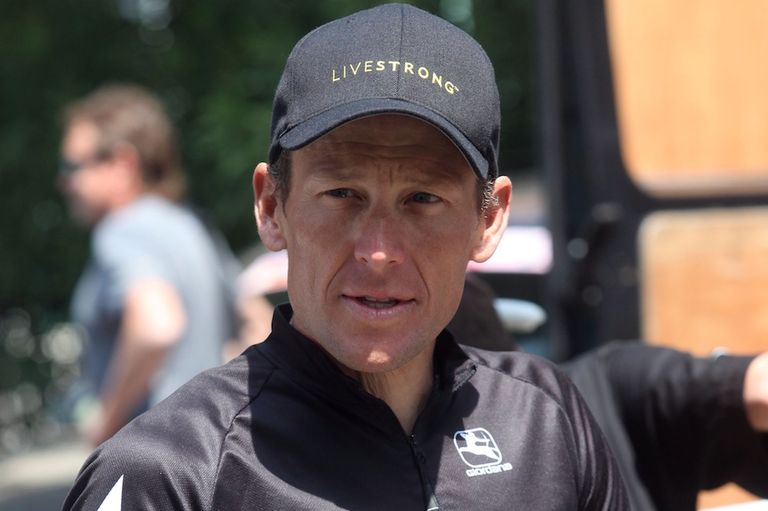 (Image credit: Watson)
Lance Armstrong faces a $100m (£65m) court case this year and the possibility of losing his remaining fortune. A large chunk of that - up to $33m (£21m) - could go to former team-mate Floyd Landis for exposing that he doped and cheated the US government.
The disgraced American, stripped of seven Tour de France titles for doping, is being sued by Landis on the behalf of the government under the False Claims Act. The unique whistleblower lawsuit allows for penalties up to three-times the amount defrauded, or nearly $100m in Armstrong's case.
Landis, with his 2010 lawsuit, highlighted how the government and taxpayers were swindled via the US Postal Service's sponsorship of Armstrong's team from 1996 to 2004.
>>> Watch: Lance Armstrong 'The Program' controversial film trailer (video)
"If I lost, we would not be sitting at this table anymore," Armstrong said at an interview at his home in Colorado. "We wouldn't be sitting in this home anymore. We wouldn't be sitting in any home. I don't have $100 million.
"We like our case is all I will say. I'm not going to jinx myself. But I don't know. How do you guys see it? Say the jury says: 'Pay up $100 million.' Floyd Landis gets $33 million. Is everybody at this jury happy with that? I would think what everybody thinks – there's no logic to that."
USPS gave $31.9m to the team from 2001 to 2004, according to an ESPN article in 2012.
Landis rode at Armstrong's side from 2002 to 2004, helped him win the Tour three times and went on to win the 2006 Tour with team Phonak. Officials stripped Landis's win after he failed a testosterone test days later.
>>> Lance Armstrong still facing $100million lawsuit
His testimony in the Food and Drug Administration case helped bring down Armstrong. The US Anti-Doping Agency (USADA) ruled in 2012 that Armstrong doped for the majority of his career, stripped him of his wins and banned him for life.
Armstrong faces the US government now, but already lost money in sponsorship deals and lawsuits with the Sunday Times (around £1m) and SCA Promotions ($10m, £6.47m). He said that he lost $75m (£49m) in sponsorship income when the USADA hammer came down on him in 2012.
"I don't have to make a case for me, but you can at least see what it's done to the sport. I do know it had a real negative effect on the fact that Chris Froome or whoever, they're still answering questions about some old guy. Sponsors left, races folded, the media totally turned," Armstrong added.
"The industry, just look at the trend. You guys [in the British media] probably live in a bubble because Britain has ridden this wave behind [Bradley] Wiggins, Froome and Sky, but there's been a lot of negative fallout.
Armstrong explained in a previous BBC interview that he wanted to "try and make it right" with his former enemies, but as part of his whistleblower defence he sent subpoenas to those who testified against him in the USADA case.
"This shows that Armstrong will stop at nothing to continue the Armstrong lie," said Betsy Andreu. Her husband and Armstrong's former helper, Frankie Andreu one of those subpoenaed. "This is nothing more than payback."
Video: Secrets of the toolbox - Team Sky