Lance Armstrong to race again with U.S. Postal team-mates
Armstrong to ride with George Hincapie, Christian Vande Velde, and Dylan Casey at 24 Hours of Old Pueblo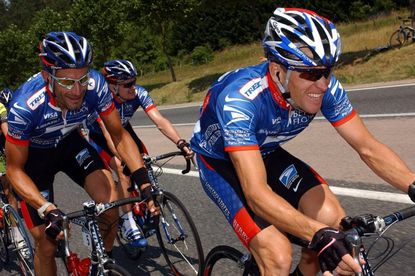 (Image credit: Watson)
Lance Armstrong and three of his former U.S. Postal teammates will be reunited next month as they team up for a 24 hour endurance race.
Armstrong will ride as part of a four-man team with George Hincapie, Christian Vande Velde, and Dylan Casey in the 24 Hours of Old Pueblo mountain bike race in Arizona in February.
Despite currently serving a lifetime ban for doping, Armstrong is allowed to ride in the event as it is not run under USA Cycling regulations.
>>> Lance Armstrong's Strava stats show he's still in great form as he trains with Cannondale pro
The event will see the riders try to cover as many laps of a 16 mile course in the Arizona desert as possible over a 24 hour period.
The former U.S. Postal riders will be competing in the team event, which means that only one of them will be riding at any one time, with the other riders able to rest and sleep.
However, despite their racing pedigree and his own competitive instinct, Armstrong says that the team is looking to enjoy the race rather than win it.
>>> 'Worse than Lance Armstrong': former Wada chief blasts Russian doping
"We are certainly not going to be contending for any victories, but we're looking forward to it, looking forward to having a good time, meeting the other racers," Armstrong told Velonews.
That sentiment was echoed by Hincapie who described the team as "just bunch of old dudes trying to have fun time in the desert."
Thank you for reading 20 articles this month* Join now for unlimited access
Enjoy your first month for just £1 / $1 / €1
*Read 5 free articles per month without a subscription
Join now for unlimited access
Try first month for just £1 / $1 / €1