Lance Armstrong's Strava stats show he's still in great form as he trains with Cannondale pro
Lance Armstrong and Lawson Craddock go for a long, fast ride over rolling roads in Texas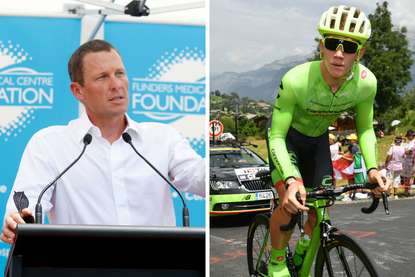 (Image credit: Watson/Sunada)
Lance Armstrong showed that he still has decent form after a recent ride with Cannondale-Drapac professional Lawson Craddock in Texas which he uploaded to Strava.
The disgraced cyclist who had his seven Tour de France titles stripped rode 115 miles in 5 hours and 52 minutes, averaging 31.5 kph (19.6mph) and climbing 1579m (5182ft) over the rolling roads west of Austin.
Armstrong wrote on Twitter, "6 hours/115 miles in miserable weather with @lawsoncraddock. Who wants to do that....? WEDU" (referring to his event management company, WEDU).
He also published an Instagram video with the message. "It's cold, 50 degrees, it's raining, zero visibility. Six hours on the bike, I'm trying to hang with his young punk."
Armstrong still refers to himself as a seven-time Tour de France champion in his Strava profile even though the UCI stripped him of those titles. In 2012, the US Anti-Doping Agency (USADA) Reasoned Decision found that he doped for most of his career.
The 45-year-old's lifetime ban prohibits him from racing again, although part of that ban was recently lifted to allow him to compete in other events.
It is not the first time that Armstrong has ridden with a current professional, having stirred up controversy when he motor-paced BMC Racing's Tejay van Garderen in 2014.
"As far as what I think on the matter of 'Does it send the right message?,' I don't think it sends the wrong message, because there are plenty of people currently in the sport that have, you know, admitted pasts or dodgy pasts," van Garderen said at the time.
"If you want to take away every single person that's ever done anything in the past, then you're basically going to be getting rid of everyone."
Craddock is from Texas (Armstrong's home state) and rides for Jonathan Vaughters's team Cannondale-Drapac. Armstrong has been at odds with his former US Postal team-mate Vaughters since his testimony in the USADA case helped deliver the lifetime ban.
Thank you for reading 20 articles this month* Join now for unlimited access
Enjoy your first month for just £1 / $1 / €1
*Read 5 free articles per month without a subscription
Join now for unlimited access
Try first month for just £1 / $1 / €1