Lance Armstrong's ban has been partially lifted
Lance Armstrong still cannot compete in cycling races, but the part of his ban that disqualified him from non-cycling events has expired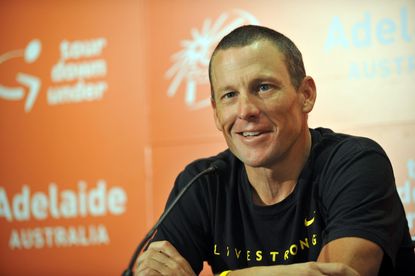 (Image credit: WATSON)
Get The Leadout Newsletter
The latest race content, interviews, features, reviews and expert buying guides, direct to your inbox!
Thank you for signing up to The Pick. You will receive a verification email shortly.
There was a problem. Please refresh the page and try again.
Lance Armstrong can return to competition, just not cycling, with his ban stemming from the 2012 US Anti-Doping Agency (USADA) case partially lifted.
Armstrong, who had all seven Tour de France titles stripped when the ban was handed down, may not race his bicycle officially again due to his lifetime suspension, but part of his ban expired on August 24, four years after USADA announced the decision.
USADA uncovered one of the biggest and most sophisticated cheats in 2012. It said that he used banned methods like blood transfusions and drugs, ranging from EPO to testosterone. And that he encouraged his team-mates to use drugs and helped them cover it up.
In its ban, however, it did allow him to compete in non-cycling events after four years.
"He can compete in a sanctioned event at a national or regional level in a sport other than cycling that does not qualify him… to compete in a national championship or international event," USADA spokesman Ryan Madden told USA Today Sports.
Armstrong, 45 this month, began competing in triathlons and marathons before his ban. Afterwards, the ban blocked him from competing in different cycling, swimming and running events he tried to enter. He tried competing in the Chicago Marathon, but could not because it fell under US Track and Field, which adheres to the World Anti-Doping Code (WADC).
In a BBC interview last year, Armstrong said it was "frustrating" he could not compete at some level.
"Nothing benefits me by running a slow marathon," Armstrong explained. "I don't think anybody thinks that's right, if Lance Armstrong wanted to go do a ping-pong tournament, or a broomball tournament, or an archery meet, or a swim meet for fun. I get it, I need to be punished, but we got to look at the whole."
The USADA statement to USA Today is unclear at what level Armstrong may compete. It is assumed that he could return to triathlons since they do not fall under the USA Cycling body.
"Good question," said Armstrong. "And one I don't really know the answer to – it's kind of complicated. My interpretation would be, yes, in probably 80% of the events out there I am free to compete."
Armstrong faces a more serious question, whether or not a $100 million (£65m) court case will proceed to trial.
Former team-mate Floyd Landis filed the lawsuit, showing how Armstrong and the team defrauded the Postal Service, on the behalf of the government in 2010. U.S. District Judge Christopher Cooper is expected to decide before the close of 2016.
Thank you for reading 20 articles this month* Join now for unlimited access
Enjoy your first month for just £1 / $1 / €1
*Read 5 free articles per month without a subscription
Join now for unlimited access
Try first month for just £1 / $1 / €1