James Shaw's winning streak
18-year-old James Shaw became first British rider to win both junior editions of Kuurne-Brussel-Kuurne and Het Nieuwsblad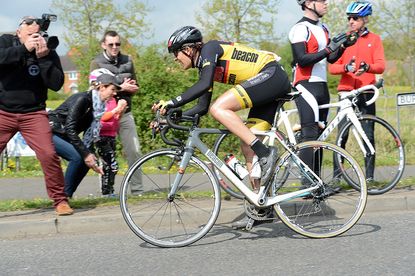 (Image credit: Andy Jones)
In James Shaw (Haribo Beacon), it looks like the future of British Cycling is in good shape, assuming the 18 year old can maintain his astonishing rate of progress.
So far this season Shaw, from Heanor on the Derby-Nottingham border, has won the junior Kuurne-Brussel-Kuurne and, most recently, Het Nieuwsblad, the first British rider to win both. In between he's also won every round of the Junior road race series – that's three series wins and counting. He's also been mixing it in the Tour Series televised city-centre crits and holding his own.
Shaw started on a mountain bike when he was eight, did some fun races in winter, got a road bike in summer and hasn't stopped since. "I joined the Heanor Clarion and started road racing at Darley Moor and Mallory Park. Darley Moor has to be one of the bleakest places in England and I think I was last in my first races, but I loved racing and riding and that was it," recalls Shaw.
Racing in Belgium and Holland in GB Youth teams followed by multiple trips to Belgium as a junior with talent developer extraordinaire John Barclay in 2013 taught Shaw valuable racing lessons. "I think there are bike riders and racers, plenty people can ride, but racing is something else," muses Shaw, who declared himself surprised by his successes this season. Shaw also worked with BC under-16 Talent Team coach Stuart Blunt, but didn't quite make the cut for a place on the track-focused Olympic Development Progammes.
Shaw, who has a road racer's soul and a Classics rider's outlook, doesn't appear too distraught by that turn of events though.
"Manchester track is two and a half to three hours away on a good day and a lot more if the traffic is bad. I like training on the road, I'm a half hour ride from great hills in Derbyshire. I'm looking forward to Derby track opening though, I'd love to do it, I'd love to see how far track racing might take me."
Now, with Haribo-Beacon, Shaw is working with team sponsor TrainSharp coaches and doing rather well on the road. He's being coached by Chris McNamara at TrainSharp who reckons that Shaw has big potential and seems able to cope with just about anything. "He's happiest when the races are gritty and selective like the ones in Belgium and he's not afraid of hard races and riding, he doesn't seem fazed by reputations either, he just gets stuck in," notes McNamara.
Shaw is every inch the proto-professional. "I just love riding my bike, it's not like I have to get up in the morning and think about what I'm going to do," states Shaw. However, don't be fooled into thinking that he's some kind of retro mile-muncher. "I started using a PowerTap and I find it fascinating, it opens a whole new avenue. I admit I get a bit excited by it," admits Shaw rather sheepishly. A fan of training with power and a dab hand on the social media front – the young wag is on Twitter as @JamesthingyShaw – Shaw is ticking plenty of boxes. Oh yes and he's winning races too.
So, from Shaw's point of view, what's next on the horizon? "Obviously the national champs (at Ryedale on July 19 – Ed.). If you can go there and come home as the champion of your country, that's it isn't it, you're your season's made. So that's on my radar, that's a race I'd like to win. After that the Junior Tour of Wales is a big race for us too. Then, maybe, I'd hope for World's selection." Maybe just hope for World road race selection? You think just maybe? With those results? We reckon he's got to be a shoo-in.
British road race round-up (March 22-23): News and results from around the UK
Thank you for reading 20 articles this month* Join now for unlimited access
Enjoy your first month for just £1 / $1 / €1
*Read 5 free articles per month without a subscription
Join now for unlimited access
Try first month for just £1 / $1 / €1