John Barclay: Belgian school of racing
John Barclay is a man who has inspired a number of Britain's top riders; including, Mark Cavendish, Ian Stannard and David Millar to name a few, Barclay's passion has been a huge boon for British cycling and is still continuing to this day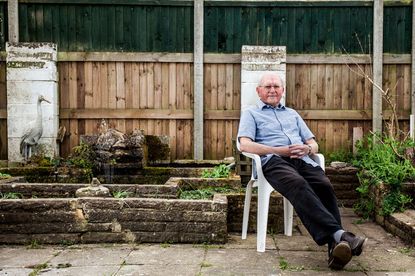 If anyone typifies unassuming devotion, it is 84-year-old John Barclay, whose racing trips to Belgium have given hundreds of young riders the chance to taste racing on the Continent. Many of those riders have gone on to become World Tour pros.
In fact, the list of riders who've travelled with Barclay to race in Belgium is a who's-who of British pros. It's a record that speaks volumes about his longstanding dedication.
"I've been doing trips to Belgium for around 40 years," Barclay recalls. "I started going over with some senior guys in my club, Festival RC, who were racing out there. We'd go out for a week or so, always to Ghent in those days, which was a sort of a mecca for cycling.
"But it wasn't until later," he continues, "maybe 25 years ago, when we had a good group of juniors in the club, that I started taking the younger riders out as well. Quite often, you'd have the junior race on the Thursday, then the seniors at the weekend, so we'd go out there with both lots of riders. We used to meet up at a motorway junction somewhere, load up the Peugeot: me, six bike riders, six bikes, and off we'd go!"
But the sport has changed significantly, and these days, to succeed, a team needs a level of funding and equipment that a self-funded, ad hoc team from England just isn't able to find.
"It's the way bike racing's going. It's becoming a thoroughly professional business.
Unless you have the complete set-up, with the van, the car and all the other gizmos, you just can't compete with a senior team anymore. We still don't have all that, even though most of the Belgian junior teams do, but we still win races. They respect us over there, and know that if we turn up, we're there to race."
The modest mentor
A recent example of such success was James Shaw's victory at the junior Kuurne-Brussel-Kuurne, whose race director of 15 years Peter Debaveye confirms Barclay's impression of how his team is recognised. "The South East Cycling Team is always one of the best teams on the start line," says Debaveye, "John and his team are well known in Belgium, and the other teams always watch out for the English riders.
"Everybody here can see what John has done for cycling in England. The standard of riders coming over just goes up every year," he reveals. But Barclay himself is adamant that he is simply part of a larger system at play in raising the ever-increasing standard of British riders.
"Things have definitely progressed," Barclay admits, "and that's largely due to the work that British Cycling has done. When I first started taking riders out there, the main object was just to try and finish. But now it's not just a case of trying to finish; it's a case of trying to win."
Did you know?
At least three members of staff from the CW office have raced in Belgium on trips organised by Barclay
His team's relationship with British Cycling has been one of understanding and unity, throughout their 40-year history. And indeed, Barclay's trips to Belgium have required a harmonious affiliation with the governing body.
"I get on very well with the guys at headquarters; they're very cooperative. I work in and around what British Cycling do, and use their riders when they're free."
The fact that Rod Ellingworth (performance director at Team Sky, and formerly of British Cycling) was a frequent member of Barclay's trips is further evidence of this special relationship.
Eighteen-year-old Briton Tao Geohegan Hart, recently third at U23 Liège-Bastogne-Liège, and currently of the Bissell Developent Team, is a more contemporary advocate of the John Barclay school.
"I was lucky enough to progress on to British Cycling's Talent Team after originally starting to race with John," the 18-year-old says. "He always tried to help me as much as possible, in any way he could, to give me racing opportunities and support my goals with British Cycling. John just likes to help guys race."
Barclay's enduring commitment, as well as his approach to nurturing development, seems to be unanimously respected throughout the sport — as exemplified by Team Sky's Ian Stannard: "I think he can look at [a rider] and know if they're going to be a good rider or not from watching them once. He knows the races and what's going to go on, but he just left us to get on with it.
"If you wanted his help and advice, then he'd give it to you, but if you wanted to be left alone, then he'd leave you alone. It was great to have someone to take you out and give you that experience of racing in Belgium, and I think that's where I really fell in love with bike racing."
Inspirational influence
Hart agrees:"I don't think John's influence is limited to the progression and development of a rider's career either. I am sure there are many who hung up their wheels long ago, but nonetheless, subconsciously or not, would have learnt things on John's trips applicable even to every day life, away from bike races."
The more people I speak to, the more apparent it becomes that Barclay is just the latest of a long and illustrious list of riders to have been through the same motions.
Stannard recalls some of the riders who've benefited from riding on Barclay's teams. "[Geraint] Thomas, Swifty, Kennaugh, Blythe, Cavendish, David Millar, Jeremy Hunt... I remember he had stories about Dave Millar and Jez Hunt. I mean, how old is Jez now?
He's retired, and John was taking him out as a junior, that shows how long he's been doing it. Jez, Millar, Brad, they've all been out with him. It's quite amazing to think who he's taken out there, and where they are now."
Barclay chuckles modestly in response. "I can't remember them all. You can see the talent very early on, though. They've got to have the head, the legs, and the motivation; if they've got all three, then they're certainly on their way, but there's nothing better than results to see where the talent lies really."
Despite the sport's creeping professionalisation, Barclay intends to keep running the same ship that has served the young cyclists of Britain so well. "I'm 84 now, and I've got a list of riders in my address book. [The list is] longer than ever before, but we'll just keep plodding on, on a wing and a prayer, for as long as my health allows. I enjoy what I do so why should I stop?"
Tributes from the stars - Riders remember...
Ian Stannard, Team Sky:
"When we were young, it was just fun and a big adventure. We'd stay in youth hostels, and the prize money was generally good enough that if you won, you could pay for the next few trips. We had to pack up quite fast to make it home, and then it was a case of fish and chips on the ferry or something."
Conor Dunne, An Post-Chain Reaction:
"I remember the 2010 Junior Kuurne-Brussels-Kuurne — the stormy one — was complete and utter carnage. By the end, I couldn't move my hands, but I remember John coming up next to me in the team car, force-feeding me gels and yelling encouragement. I finished 19th, before being driven back to the HQ wrapped in a tin foil blanket and shivering uncontrollably on the back seat of the car."
Tao Geoghegan-Hart, Bissell Development Team:
"We did the Moerkerke Interclub with John in 2013, two weeks out from junior [Paris-] Roubaix. It had cobbles in and was the only road race I was able to ride before Roubaix. John and I talked about it for months prior, but without racing Moerkerke, or John's help getting there, I highly doubt Roubaix would have gone so well [he was third]."
pulling no punches - Barclay on...
Mark Cavendish
"In Cav's second season as a junior, he started coming over with Matt Brammeier. Brammeier was a good junior, and they were like Siamese twins. I wanted Brammeier for the inter-clubs, but if you wanted him, then you had to take his bloody sidekick too."
Recent successes
"A few weeks back, we had nine riders out there, doing two local kermesses on the Saturday and the Sunday, but there was a bit of a delay on the Eurostar. The riders got changed on the train, we got to the race with half an hour to go, they signed on, and we got first, second, third, sixth and ninth."
A diminishing calendar:
"There's fewer local races in Belgium these days, that's for sure. At one time, you could go and stay in one place and ride to two or three races a week, but you can't do that as much now."
His own racing career:
"I raced in Holland for a week when I was younger; that was the only time I raced abroad. I did most of my racing on the track, grass, and aerodrome circuits, because racing wasn't allowed on the roads."
Thank you for reading 10 articles this month* Join now for unlimited access
Enjoy your first month for just £1 / $1 / €1
*Read 5 free articles per month without a subscription
Join now for unlimited access
Try first month for just £1 / $1 / €1
Founded in 1891, Cycling Weekly and its team of expert journalists brings cyclists in-depth reviews, extensive coverage of both professional and domestic racing, as well as fitness advice and 'brew a cuppa and put your feet up' features. Cycling Weekly serves its audience across a range of platforms, from good old-fashioned print to online journalism, and video.