Jens Voigt rides through the night and snow for Everest charity challenge
The former pro rode 100 times up a climb west of Berlin to gain the altitude of Everest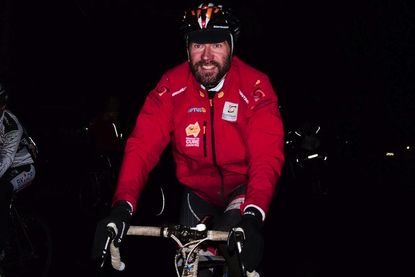 (Image credit: Jens Voigt/Twitter)
Former German professional Jens Voigt rode through Berlin's night and snowy conditions, climbing and descending the Teufelsberg in his Everest Challenge to reach over 8848 metres and raise €25,000 for cancer sufferers.
Voigt, who set the Hour Record before retiring in September 2014, began the Everest Challenge on Monday at noon.
He climbed the 90 metres up Teufelsberg in each four-kilometre loop, riding through the night and a light snow, to reach the desired metres. He finished his ride, after stops for food and consumed brake pads, today at 15:00 local time.
Mount Everest peaks at 8848 metres, which Voigt noted before his ride.
His goal was to raise €10,000 for the Tour de Cure charity. He exceeded that amount by more than two-fold with around 800 individual donations.
"Done and dusted!" he wrote. "8845m of climbing - 27h with some small breaks on the bike! Over €25k raised!"
Although Voigt initially said that he had ridden 8845 metres, he later clarified that he had exceeded this target, saying "Of course I did more that 8848 metres today, that was a typo! I actually did approx 9000m!"
Followers knew Voigt as one of cycling's hard men in his career that spanned the last 20 years. Before retiring by setting the Hour Record under the new rules, he won two Tour de France stages and wore the yellow jersey, took five Critérium International titles, and escaped in countless groups.
The perseverance needed to race 17 editions of the Tour served in his ride on the Teufelsberg or 'Devil's Mountain'. The morning of the ride, Voigt awoke to Berlin's first snow. He said, "But hey, its only little snow, right?! Gonna be fun."
Journalists waited at Teufelsberg's base, west of Berlin, while Voigt cycled up and down. He mounted lights on his bike to see through the dark 3°C night with its occasional snow and hail.
Cycling supporters joined alongside Voigt and provided needed company. He stopped for breakfast, warm coffee, dry gloves, and after the grit took its toll, new brake pads.
Before the sun shined its first rays on the 120-metre Teufelsberg, Voigt said, "Counting the hours now! Really tired."
Eight hours later, he completed nearly 100 loops and the needed metres to reach the virtual peak of Everest and raise more money then planned.
Thank you for reading 20 articles this month* Join now for unlimited access
Enjoy your first month for just £1 / $1 / €1
*Read 5 free articles per month without a subscription
Join now for unlimited access
Try first month for just £1 / $1 / €1