Jens Voigt: Life lessons from 30+ years of riding
Legendarily tough rider Jens Voigt shares 33 years' worth of cycling wisdom: a shortcut-free masterclass in hard training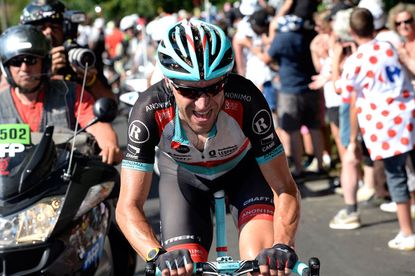 (Image credit: Graham Watson)
We sat down with breakaway hardman Jens Voigt to hear all about his training from over 30 years of cycling.
Endurance alone isn't enough
"In the early days, in East Germany, most of my training was long and slow. I could ride Paris-Moscow at 41.5kph, but when I turned professional I realised that races aren't decided at that speed; they are decided in the crucial five or 10 minutes of max effort — when I needed to be stronger."
Train specifically for the hardest parts of the race
"I cut down the volume of training and did more quality, less quantity. I already had endurance; I didn't need any more. What I needed was to train for the crucial part of the race.
>>> Detraining: The truth about losing fitness
"I did 10 minutes and one kilometre maximal efforts to replicate jumping after a breakaway or trying to create a break. I'd ride five times a four- or five-minute circuit early in the season — then later 10 times — at close to my maximum effort."
Training hard isn't enough — you need a winning edge
"When I started training with Bjarne Riis at CSC, he said, 'Look, it's easy to train hard, the tricky part is to train hard in the right way.' Earlier in my career, when I never thought the [Berlin] Wall would open, I never thought I'd be responsible for my own training — I'd always had coaches in East Germany.
>>> 13 ways to increase your average cycling speed
"In my early days as a pro, it was all about quality and intervals — any hard training was good training. Then I started to work with Bjarne, who said that we need to train hard and smart because everyone has good bikes, good equipment and can train hard — we need to have a winning edge."
If it feels hard, it is good for you
"The first thing you lose as you get older is that sharp edge, the high heart rate, the punch out of the corners. That little bit of aggressively, fast-twitching muscle fibre... that probably goes first.
"You still have a lot of endurance and stamina, but those maximal things start to go. If you want to keep it, you have to train it. In cycling, whatever is uncomfortable and hard for you is probably good for you. There are not many tricks and techniques. In cycling, you just need a big heart, a big pair of lungs and legs."
Know your zones
Focus on the intervals, not the in-between
"In the first training camp, you'd do 10-minute medium intervals. Later in the season, you'd do a 20-minute medium warm-up before the proper intervals. Between the intervals, training was just transport from A to B, to the next set of intervals. Training was achieved in the intervals, not in between.
>>> Turbo training sessions: Get the most out of your indoor training
"Bjarne would say, 'Go slower, boys, recover, you need to be fresh for the intervals because they're going to be pretty hard.'"
Sit and stand maintaining the same power
"One thing I hated was sitting-standing. You'd decide on a climb long enough to let you do one minute sitting down and one minute standing, two minutes sitting, two minutes standing, three minutes sitting, three minutes standing, then two minutes and one minute again.
"You'd do that for 30 minutes. And to make it more difficult, you were supposed to hold 85-95rpm uphill, so your heart rate just goes skyrocketing when you are out of the saddle.
"Plus, we had to push constant watts whether sitting or standing. I had to push around 400-420 watts, I think, a little less at the start of the year and a little more after. That was what helped my body keep that freshness, especially when I was getting older."
Don't worry too much about data
"Not at all. I only did it because I was told to do it. If you want to talk about training science, I'm the worst person to ask. Chris Boardman or Bobby Julich, they watched it all; they still have all their files from every race… I'm not like that.
"Of course, I have some basic knowledge to get me going, but one reason it was good I retired is because I'm a dinosaur and I'm about to be extinct! I went by instinct for a big part of my career. If the sun was shining and the sky was blue, I'd attack. I didn't have a plan, I just decided right in the moment."
Fancy giving 'cross a go?
Go mountain biking with riders who are faster than you
"To keep that maximum punch [as I grew older], to keep my high heart right in time trials and all of that, I needed to train differently. For example, in the last five years of my career, all winter long, I did mountain biking because it's harder work.
>>> How to resume your training after a break
"OK, in the last years, that didn't work. At 41 or 42, my body just wouldn't respond any more the way I desired. But from 36-40, I remember I trained with an ambitious group of weekend warriors, amateurs, juniors who did cyclo-cross. I'd follow them on my mountain bike. When I started with them, they'd be in the middle of their 'cross season and they kicked my ass. A month later, I could easily stay with them.
"By the spring, I'd be doing two and a half hours with them, then they'd all go back home, and I'd do the same loop the other way around to go home — twice as much as them."
Do the real work in the winter
"I trained hard in the winter because I remember one of the coaches in East Germany telling me that the real cyclist is made in the winter, which still holds true. The real work is done in the winter.
"If you come out short of form at the end of January, you are pretty much f***ed. You'll be in shape another two months after the peloton. Fortunately, not everyone listened to that advice or they'd get lazy and have a huge Christmas turkey.
>>> Seven easy steps to avoid winter weight gain
"OK, I had that as well, but I went training. That was my advantage and that's why I had a lot of early-season results in my best years with Bjarne — because I was ready, I came out of the winter ready to race."
Make sure your bike is as ready as you are
Make a deal with yourself
"Until the last year of my career, I always had positive feedback from my training or results. I trained hard, I'd come out of the winter, maybe win a stage in Paris-Nice or Tour of the Med, or maybe top five somewhere. I'd say it was worth the work.
>>> Nine ways cycling changes when you're over 40
"Until the last year, when I found it mentally really hard to go out training… I remember saying, 'You know, Jens, just be honest: you don't want to go any more.' I had a crisis meeting with myself. I said, 'All we want to do is finish the season in a good manner, honour the contract.' I looked at myself and said, 'Let's keep it together for one more season.' I squeezed it all out of me."
Think yourself lucky, and count your blessings
"Until that last year, I loved training. I'm always the guy with the glass half full, looking at the positive side. My office job was being in the fresh air, hearing the birds singing, riding and keeping myself fit. That's a great job! I was lucky in life. Life was good to me, giving me a chance to discover cycling and make it my life. For 95 per cent of my career, I never had a problem with training and motivation."
Training for the Hour really hurts
"The Hour Record helped me [maintain motivation]. I knew it was just one month to go. I loved every little bit of the intervals. I thought, 'This is the last time I have to do this.' I didn't have to train with endurance any more — just hard and vicious.
"I remember the hardest one was six times eight minutes at the race speed we planned, plus five per cent, so basically six times eight minutes in the red. We planned for 51km, plus five per cent, so my heart rate was just immediately through the limit after the first one.
"I was basically in the foetal position, saying, 'Mamma, I don't want to do this anymore. I want to abandon this project!' So that was hard."
Sometimes you just need to rest
"The biggest training mistake I made was not taking enough rest. Sometimes you have to be brave and just give your body a rest. If your body is yelling and screaming at you, sometimes it's not laziness, it's just that your body really needs your help.
"Sometimes you have to be brave and say, 'The work is done, I just need the shape to come.' Chris Boardman would tell me, 'You know what, Jens, in the last week before the Tour de France, you can't improve your shape, but you can very well run yourself into the ground by training too much.' That's so true."
Keep healthy post-retirement
"I still ride because, in my job for Trek, they make me ride. They signed me up for the Ride Across Wisconsin, which is 175 miles — not kilometres, miles! I have to maintain a little bit of fitness because riding my bike is still a big part of my job.
>>> Listen to your body: don't ignore the warning signs of injury
"Even more important for me as a father of six children, I cannot afford to have a heart attack in two years because I didn't train… I still ride and run; more running now."
Following doctor's orders isn't always possible
"I asked the team doctor in the Tour last year how much cycling I should do after I retire. He said, 'The way you have done cycling at the highest level for 33 years, you should do 60 per cent of the quality and quantity of the last year's training.'
"Suddenly Mikel [Zabala, physiologist] was laughing his head off, saying, 'You want to stop, but 60 per cent is basically like you are just cutting out the racing from your life and still training as normal.'
"That would mean that I would have had to have ridden 20,000km this year. There was no way in hell I was going to do that."
Newcomers need to be honest with themselves
"What I see again and again is that you should know your limits, pace yourself. I see it all the time: newcomers or beginners want too much, too soon and then they burn their matches too soon because they become frustrated that they have sore muscles, a sore knee or sore butt. First, be honest to yourself."
You need to make a plan
"Know where you want to go and what you want to train for. If you want to train for the Masters World Championships in Maastricht, then yes, you're going to need to train a lot, but if you just want to keep a reasonably fit body, you don't need to train five hours five times a week. So have a plan and be honest with yourself. Look at where you've come from and where you are currently. Have a plan and be realistic with yourself, and pace yourself."
Find a training plan that suits you
Credit: Cycling Active
Get into cycling, get fitter, or ride faster with our cycling training plans
Don't take on too much
"Whether you are married or not, with or without children, how much time do you have to spare? And what are your goals? Do you want to drop five kilos? Do you want to become lean? Do you want to win the British National Championship?
"Have an idea where you want to go, look at yourself and see if you can. Are you at zero or, if you trained before, do you just need to freshen up? Out of those pieces of the puzzle, you can create a picture that fits for you.
>>> How to get faster as you get older
"It helps to train with groups to get motivation and have support. Be ambitious, but also be honest with yourself. Take a rest too. I'll tell anyone who'll listen that having three good days of training and one day off is better than just pushing on and on."
It's all down to you — you're on your own
"In cycling, there are no shortcuts. If you want to achieve something you have to do the hours on the bike. In soccer, if you are tired, you can stand on the field and team-mates can run for you and cover your ass. In cycling, no one will cover your ass. If you're dropped, you're dropped. Whatever you want to achieve, you have to do the training for it."
Eat right, ride right
Jens Voigt: 30 years of hard work and rewards
1971: Born in Grevesmühlen, East Germany.
1985: Joins national sports school.
1994: Wins Peace Race.
1997: Turns pro with ZVVZ-Giant-Australian Institute of Sport.
1998: Joins GAN.
1999: Wins Critérium International
(the first of five times).
2001: Wins Grand Prix des Nations; wears yellow in Tour and wins a stage.
2004: Joins CSC.
2006: Wins second Tour stage.
2008: Wins Giro stage.
2011: Joins Leopard-Trek.
July 2014: Takes part in his 17th Tour de France.
September 2014: Sets new World Hour record, aged 43 (51.110km).
December 2014: Becomes coach with Trek Factory Racing, having retired from pro cycling.
Thank you for reading 20 articles this month* Join now for unlimited access
Enjoy your first month for just £1 / $1 / €1
*Read 5 free articles per month without a subscription
Join now for unlimited access
Try first month for just £1 / $1 / €1