JONNY BELLIS KICKS OFF FOR GB IN MEN'S OMNIUM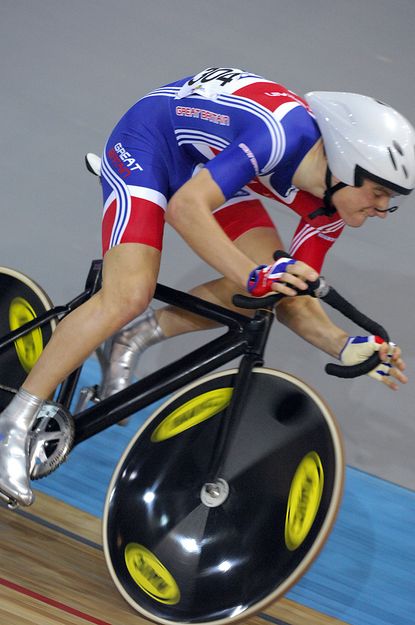 Olympic Academy rider Jonathon Bellis got Great Britain's world championship campaign underway this morning in the men's omnium. Bellis stopped the clock at 11.213 in the 200m flying sprint, the first event in the five race omnium that finishes this evening, to put him in eighth place.
Soon after, Shanaze Reade and Victoria Pendleton qualified fastest in the women's team sprint, another new event for the world track championships. The new pairing set the fastest time by almost half a second as BMX world champion Reade blasted out of the blocks, leaving Pendleton fighting to get her wheel.
Reade covered the first lap in 19.305 seconds before swinging up the track, leaving Pendleton to record 33.630 seconds for the 500m event. Reade and Pendleton will ride for gold against the Netherlands in the evening session (20.45hrs local time)
UPDATE
Bellis found himself chasing the race in the 5km scratch race, the second event in the men's omnium. Bellis tried his luck after four riders gained a lap early on, but was left out on his own as the small bunch split and reformed behind him.
UPDATE
The team sprint and team pursuit teams were decided yesterday after a training session on the track. GB's Performance Director Dave Brailsford confirmed the line ups:
Team Sprint
Craig MacLean
Ross Edgar
Chris Hoy
Reserve - Jamie Staff
Team Pursuit
Ed Clancy
Paul Manning
Bradley Wiggins
Geraint Thomas
Reserve - Chris Newton
Rob Hayles misses out on the team pursuit for the first time in 15 years, but rides the individual pursuit instead. He and Wiggins ride the qualifying event this morning.
UPDATE
Rob Hayles posted a time of 4:25.669 minutes in qualifying for the individual pursuit, putting him in second place, but with several riders still to ride. Riding in an adapted position that mimics Floyd Landis's 'preying mantis' setup, Hayles was always up on Ireland's David O'Loughlin and had him in the same straight by the end of the 4km race. O'Loughlin stopped the clock at 4:30.595.
UPDATE
Olympic champion Bradley Wiggins rode in the very next heat and posted a time of 4:15.976 minutes. Wiggins was up against Vitaliy Popkov of the Ukraine, but always looked in control and soon had his opponent in sight. Riding to a schedule of a 'mid 4:16' Wiggins wound up the pace at the end of the ride. He was clearly delighted with his ride, punching the air after he crossed the line. There are eight riders still to go, with only Robert Bartko of Germany and Volodymyr Dyudya likely to get close to the Brit.
Full report to follow.
Thank you for reading 20 articles this month* Join now for unlimited access
Enjoy your first month for just £1 / $1 / €1
*Read 5 free articles per month without a subscription
Join now for unlimited access
Try first month for just £1 / $1 / €1