Katie Archibald column: My reasons for considering the sprint at the national championships
"Am I subconsciously keen to enter so I have an excuse for doing poorly in the pursuit, an event I'm essentially afraid of?"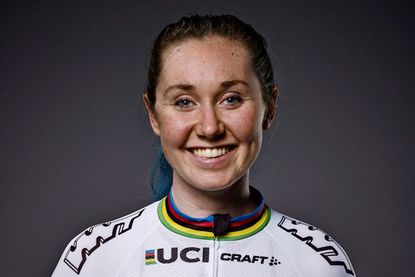 (Image credit: Nick Hill)
Olympic and world champion, Katie Archibald got into cycling after winning handicap races on a Highland Games grass track. She writes a column for Cycling Weekly each week
Tonight I must decide whether to enter the sprint at this year's Track Nationals. Or, I could pay £25 to delay the decision by changing it to whether or not I withdraw.
The Championships take place in Manchester from January 26-28. So far I have entered the individual pursuit (Friday), the scratch race and keirin (both Saturday) and the points race (Sunday).
The sprint is on the Friday and entering would be a stupid thing to do. Best-case scenario is that I wouldn't be too deep into the sprint ladder before pursuit qualifying so I could still put down a good time. But also that I do go far enough into the sprint ladder before the pursuit qualifying to avoid being so nailed from pursuiting that I go out the sprint really early.
Then I would hopefully have enough time to recover during the lunch break, come back fighting in whatever sprint heats I make, and accept one horribly painful and potentially quite slow pursuit final.
http://www.youtube.com/watch?v=rcdwTRh3sGo
The top eight pursuit qualifiers race a final and if you qualify in the top four (I'm defending champion) you ride a 'medal final' and can only slip one place lower than your qualifying place.
Why do I want to enter the sprint? Because it would be fun.
And I'm oddly keen to post a flying 200m time (something I could kit up for and do in training — not the same). Crucially though, the best omnium riders in the world are fast — like top end, actually shifting, fast; not just fast-at-the-end-of-a-points-race-when-everyone-else-is-on-their-knees kind of fast, but straight-up quick — so if I'm training to compete in that field I should be able to give the national sprint a fair go.
>>> Katie Archibald column: 'I've seen an asthma attack celebrated by a coach'
Am I subconsciously keen to enter so I have an excuse for doing poorly in the pursuit, an event I'm essentially afraid of since putting so much into performing at the Worlds and walking away with a result that reflected almost no change in two years?
No, what an oddly specific thing to ask.
Unrelated: it's rude to read other people's diaries you know.
Thank you for reading 20 articles this month* Join now for unlimited access
Enjoy your first month for just £1 / $1 / €1
*Read 5 free articles per month without a subscription
Join now for unlimited access
Try first month for just £1 / $1 / €1