Katusha celebrates five years in the pro peloton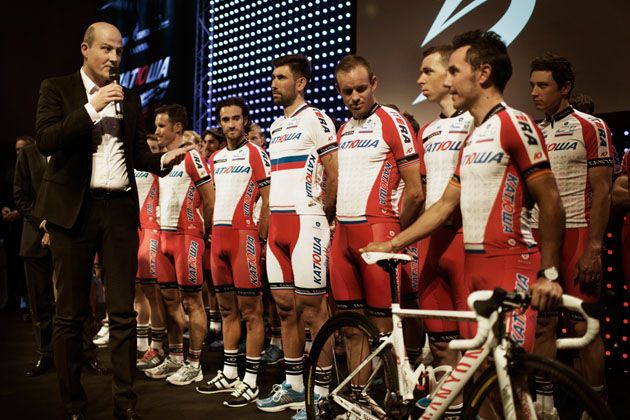 (Image credit: Tino Pohlmann)
The Russian-registered Katusha squad proudly celebrated five years in the peloton during a day of celebrations in Germany yesterday.
Festivities took place in Koblenz, home of the their bike manufacturer Canyon, and included a one-hour team presentation followed by a five-course meal for sponsors, riders and invited guests.
Memorable moments of the former, which awkwardly ebbed and flowed between a number of languages, included team owner Igor Makarov presenting sports director Viacheslav Ekimov with a horseshoe for good luck, and a rendition of "Happy Birthday" (in English) by Philipp Kirkorov, who was introduced as "the Russian King of Pop, the number one Russian singer and one of Russia's best dancers". Monroe eat your heart out.
Although the team's number three WorldTour ranking in 2013 was largely because of the results of Spaniards Joaquim Rodriguez and Daniel Moreno, Katusha - aka the Russian Global Cycling Project - remain proud of their origins.
Numerous references to the forthcoming Winter Olympic Games in Sochi were included during the team presentation, and the event ended with a rendition of the Russian national anthem.
Thirty-four-year-old Rodriguez has been a part of the team for all but its debut 2009 season, and stated its Russian emphasis is not a detriment to those not from the Eastern European country.
"Honestly, it's not the problem you think it is or that I thought it would be to begin with," said Rodriguez. "In cycling, there are always mixed nationalities within teams, you rarely get completely Russian or Spanish teams. We are all young, we are all hungry, and we have the same objectives. There's a good atmosphere within the team."