Katusha's Marco Haller left with carbon-fibre fragments in leg after E3 Harelbeke crash
"I don't think I've ever seen so many broken bikes" said Haller after a mass crash in E3 Harelbeke in Belgium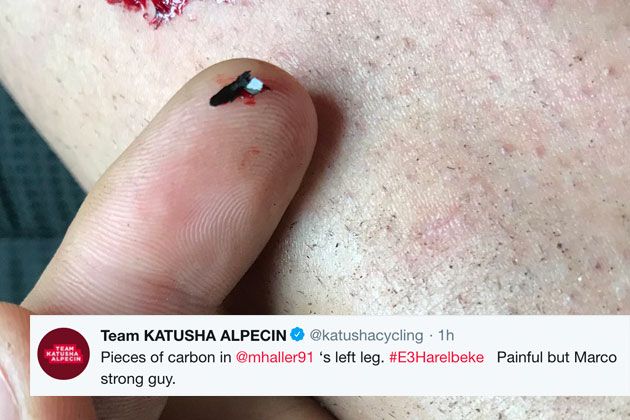 (Image credit: Katusha-Alpecin/Twitter)
Marco Haller was left with carbon-fibre fragments in a wound in his left leg after a crash during E3 Harelbeke on Friday saw a large number of riders tangled up.
The Katusha-Alpecin rider was forced to abandon the race after the incident. Several riders' bikes were snapped in half as a result of the crash, and evidently a snapped tube or component made contact with Haller's leg.
Katusha-Alpecin posted a video on Instagram of Haller talking after the incident as he sat in the team car for treatment. Shards of carbon-fibre were clearly visible on his leg.
The crash happened with around 108km left to go in the 206.1km race in Belgium.
Riders were thrown into ditches at the roadside, with some ending up in a field. It was unclear what had caused the crash.
"I'm okay, I hope all the other riders are also okay," said Haller.
"I just have to say I don't think I've ever seen so many broken bikes, there must have been 100,000 Euros gone."