KOHL ACCEPTS BAN, TRAINS AS CHIMNEY SWEEP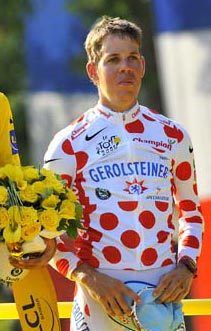 Austrian cyclist Bernhard Kohl has accepted the two-year ban he was given for taking a banned substance during the 2008 Tour de France, and will not launch a legal fight to shorten the suspension.
"My attorney found part of the justification of the suspension incomprehensible," Kohl is reported in the Austrian Times to have said. "Nonetheless, I have decided to forego additional legal steps."
Kohl is now enduring financial problems, and has been forced to hang up his bike and find alternative employment. He is reported to be training as a chimney sweep in Lower Austria.
The former Gerolsteiner rider won the King of the Mountains competition in the 2008 Tour de France, but returned a positive test for new blood-boosting drug CERA, a form of EPO, during the event.
Kohl had been hoping for a reduction in his ban if he helped the Austrian anti-doping authorities with their investigations. However, it appears that Kohl would not give authorities the name of his supplier and the maximum two-year ban was enforced.
Pro riders Riccardo Ricco, Leonardo Piepoli and Stefan Schumacher also tested positive for CERA at the 2008 Tour and have subsequently been sacked from their squads and suspended from competition.
RELATED LINKS
Hauled over the Kohl
Kohl confirms he doped
Thank you for reading 20 articles this month* Join now for unlimited access
Enjoy your first month for just £1 / $1 / €1
*Read 5 free articles per month without a subscription
Join now for unlimited access
Try first month for just £1 / $1 / €1