London launches Cycle Friday for novice cycling commuters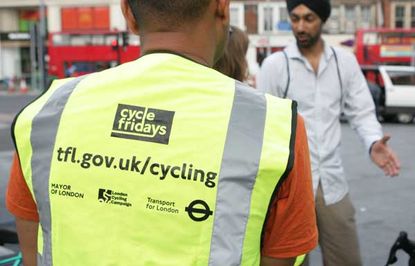 Today is Cycle Friday in London, a new intiative for novice commuter cyclists to join bike convoys led by London Cycling Campaign marshals heading for the West End and City.
The idea stems from London Cycling Campaign's led rides for novice riders during the 48-hour tube strike in the summer. They began from tube stations in the outer boroughs and were specifically intended for inexperienced cyclists.
>>> The best folding bikes: a buyer's guide
It was a huge success and 11,000 people took part. The Mayor of London and Transport for London now want to develop the idea and Cycle Fridays will continue every Friday until October 2. The Mayors Director of Transport Policy, Kulver Ranger, took part in one convoy.
Each rider joining the convoy will be greeted by LCC ride marshals who will give their bikes a basic check, and provide the relevant TfL cycle maps before setting out.
Mayor of London, Boris Johnson, said: " Whether it's Monday, Wednesday, or Sunday I tend to go by bike but, although it is safe and getting safer, I fully appreciate that some people find it a little daunting at first.
"Cycle Fridays are a brilliantly simple way of giving thousands of commuters the confidence to get cycling. I'm sure that when they see how much of a fun, healthy and convenient experience it can be they will be hooked."
Koy Thomson, Chief Executive of London Cycling Campaign, said: "We know that a third of Londoners own a bike and many want to cycle more. But force of habit, particularly with commuting, stops them switching to the faster, cheaper alternative. Cycle Fridays will help people break old habits and exercise their choice to cycle."
Cycle Fridays is part of a summer cycling promotion in London, building towards the SkyRide on closed roads on Sunday, September 20.To find out more about Cycle Friday's visit: www.tfl.gov.uk/cycling
The Cycle Friday routes are as follows:
Brixton - Russell Sq 8.00am Outside KFC, Corner of Brixton Road and Coldharbour LaneBrixton Finsbury Park – City (St Pauls) 8.00am Finsbury Park Gate, Finsbury Park, Seven Sisters Road, Finsbury Park Mile End – City (St Pauls) 8.00am Under the Green Bridge near Mile End station, Mile End Road, Mile End
Ravenscourt - Trafalgar sq 8.00am Outside Ravenscourt Park Tube- Ravenscourt Place, Ravenscourt Park
Swiss cottage - Holborn 8.00am Outside Theatre, Eton Avenue at junction with Swiss Cottage Gyratory, Swiss Cottage
Greenwich – City (St Pauls) 8.00am Cutty Sark Gardens, King William Walk, Greenwich
Novice riders finding their feet in London under guidance from London Cycling Campain marshalls
Thank you for reading 10 articles this month* Join now for unlimited access
Enjoy your first month for just £1 / $1 / €1
*Read 5 free articles per month without a subscription
Join now for unlimited access
Try first month for just £1 / $1 / €1
Keith Bingham joined the Cycling Weekly team in the summer of 1971, and retired in 2011. During his time, he covered numerous Tours de France, Milk Races and everything in-between. He was well known for his long-running 'Bikewatch' column, and played a pivotal role in fighting for the future of once at-threat cycling venues such as Hog Hill and Herne Hill Velodrome.