Look like a Stormtrooper with Bell's new Star Wars helmets
Helmet manufacturer Bell have teamed up with Lucasfilm to create a range of Star Wars-themed helmets ahead of the release of The Force Awakens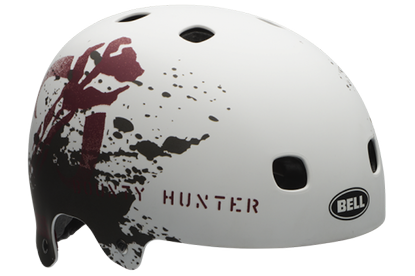 Unless you have been living under a particularly remote rock for the last few weeks (or you just don't care), you'll be as excited as we are that the wait for the new Star Wars film is finally over.
So, what better way to celebrate than with a limited edition Star Wars-themed bike helmet made by Bell?
The American helmet manufacturer has partnered with Lucasfilm on an exclusive six-year deal and have released a range of helmets in themed designs that can make you look just like Boba Fett, Darth Vader or a Stormtrooper on your next bike ride - and who wouldn't want that?
>>> Quiz: Star Wars or cycling – who said it?
The Super 2R trail helmet, which is available in Boba Fett or Stormtrooper styles, comes with wraparound protection, an integrated breakaway camera mount, Goggleguide™ adjustable visor system and MIPS technology (which was first used in equestrian helmets in 2007).
Bell have even managed to get something in there for the real Star Wars geeks: the back of the Stormtrooper helmet is marked TK-421, the code of the Stormtrooper ambushed by Luke Skywalker and Han Solo in A New Hope (no, me neither).
There are also a range of BMX-style helmets, called Segment and Segment Jr., which come in Boba Fett, Darth Vader and Millennium Falcon styles.
But, if these sound like the helmets you're looking for, there's some bad news: they are currently only available from Bell's US site and all five types are sold out!
Thank you for reading 20 articles this month* Join now for unlimited access
Enjoy your first month for just £1 / $1 / €1
*Read 5 free articles per month without a subscription
Join now for unlimited access
Try first month for just £1 / $1 / €1