Louis Meintjes suffers sunburn on training ride as jersey offers little protection
Mesh-style material of South African Louis Meintjes's jersey did not provide enough protection from the sun's rays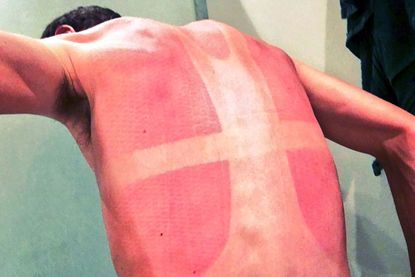 (Image credit: Louis Meintjes/Twitter)
Louis Meintjes has started his 2018 season with an unpleasant case of sunburn. The South African cyclist posted a photograph of his red back on Twitter on Saturday after a training ride.
"Rookie mistake," the 25-year-old from Pretoria commented next to the image.
The Dimension Data rider's bib shorts and heart-rate monitor strap left a crisp white cross on his back, as the mesh fabric of his jersey evidently let in the sun's ultra-violet rays.
Australian pro rider Rachel Neylan replied: "Louiiiiiis! Has your Aussie friend not taught you anything?"
Others offered their sympathy to Meintjes, and suggested ways in which he could relieve his temporary discomfort.
But some were slightly less sympathetic.
Meintjes is far from the first cyclist to get burnt by the sun. Chris Froome suffered a similar sunburnt back in 2014. His wife, Michelle Cound, posted an image of the sunburn saying "The danger with wearing mesh jerseys… #ouch".
http://www.youtube.com/watch?v=WWVoFpEyh_I
The Dimension Data team welcomed Meintjes back for 2018. He rode for the South African squad between 2013 and 2015 before spending two years with Lampre-Merida/UAE Team Emirates.
He has placed eighth in the last two editions of the Tour de France, and will lead Dimension Data at the Giro d'Italia in May – the first time that he has taken part in the Italian Grand Tour.
Thank you for reading 5 articles this month* Join now for unlimited access
Enjoy your first month for just £1 / $1 / €1
*Read 5 free articles per month without a subscription
Join now for unlimited access
Try first month for just £1 / $1 / €1