How Scott Davies' dream to turn pro in the WorldTour nearly didn't happen
Scott Davies thought his dream to turn pro had been dashed by ill health and ill fortune, but determination and no little talent saw him taken on by Dimension Data. He tells Sophie Smith about his transformational year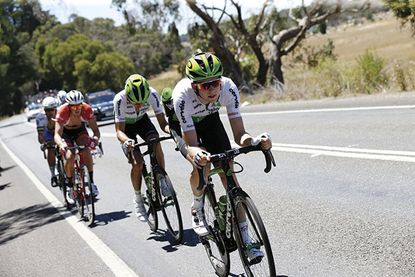 (Image credit: Yuzuru Sunada)
On the verge of signing a deal with a WorldTour team and realising the chance of fulfilling a childhood dream to become a professional cyclist, Scott Davies thought of quitting.
Davies was in his final year of a long under-23 tenure when he began to question his long-held aspir
ation of turning pro.Racing with Team Wiggins in 2017, the humble and precise Welshman was beset with a draining illness.
He was almost broken, but mustered enough strength at the baby Giro d'Italia to finish fourth overall. He started to banish the doubts and was back on a career path that eventually delivered him to Dimension Data this season.
"I picked-up a virus, which knocked me out for a few months and then at the time I thought that was it. I thought my dream of turning pro was over," he recalls.
"I told myself I'd do four years under-23 and then, if it didn't happen, I'd look at pursuing something else. Even though my heart was set on turning pro, I needed that confidence boost."
>>> Dimension Data sign British 'talent of the future' Scott Davies
The WorldTour lifestyle, including, typically, relocating to the Continent and travelling extensively, has proved a stumbling block for many over the years.
But Davies is already well-adjusted. He's established in Nice in the south of France, living with fellow countryman and Team Sky rival Owain Doull. Also, through tenures at Madison-Genesis (2014), British Cycling (2015) and Wiggins (2016-2017), he has the nomadic life down to a T.
This gave Davies an advantage compared with other British rookies at January's Tour Down Under.
"He's the politest man in the world and that's no exaggeration. He's actually an ideal person to live with," says Doull. "A couple of times I've had a bit of a flap on, going away to a race, and have forgotten to clean my bike because I'm in a rush. I'll get a phone call from Scott saying, 'Mate, saw your bike was a little bit dirty when I was cleaning mine so I cleaned yours as well.'
"I get angry at him now for doing stuff like that because I never do anything back for him."
Davies's interview with Cycling Weekly is his first as a WorldTour rider, according to Dimension Data media liaison Damian Murphy, who sits in. "I'm just going to counter everything that he says wrong," Murphy jokes, as Davies responds: "It gets deducted off my salary; every point is €50!"
So, to save him a few quid, we ask him a question that he can't get wrong. How did he start on his journey to the top of the sport? "I got my first proper bike when I was 11. I started riding with my Dad for a couple of years and then I started going out on my own," he says.
"One day I dropped my rear light, a car pulled in and the driver was a coach from a local club. He said, 'I've seen you riding about town, you should come up to the club.' And that's how it started."
When we ask about getting his WorldTour break, he says: "The biggest feeling was relief, to be honest. It was a four-year journey plus for me, so to finally get the call and get an offer was really nice, especially from this team. I never thought this team would be interested in me so I said 'yes' straight away."
Davies acknowledges the pathway for British riders is commonly synonymous with Sky, but he has compatriots at the South Africa-registered Dimension Data, including sports director Roger Hammond, Steve Cummings, Scott Thwaites and Mark Cavendish.
Speaking at the WorldTour races in the Middle East in February, Hammond is complimentary about the composure of the cyclist he first met when he directed him at Madison-Genesis. "He copes with pressure and adversity really well. He's a damn good bike rider. He's found his feet and is integrating well into the team. There's no road book on how to do that."
Davies has had a solid start to his neo-pro season, adapting to a late call-up in Oman and putting in a solid performance at the Abu Dhabi Tour and the Tour of Langkawi [in Malaysia].
He is now due to race the Tour de Yorkshire in May and the Critérium du Dauphiné in June.
Davies, who has total of five junior and under-23 national time trial titles, is looking to develop in stage races rather than consolidate his time trialling.
>>> UCI WorldTour: Latest news, reports and race info
Racing Grand Tours is his goal because of his climbing ability and aptitude against the clock, not to mention his taste for heritage. "I'd really like to turn around at the end of my career and say I rode the Giro, the Tour and the Vuelta. Not many people get to say that so I'd like to be in that group of people."
His results at the baby Giro and a top-five finish at the Tour of Alsace bode well and are indicative of why Dimension Data was interested.
"The first goal is to learn as much as I can," Davies says.
"If I can finish the year having learnt a lot about WorldTour racing and how I need to prepare better for the next year, that in itself will be a success. If I get some decent results along the way, I'll take them as a bonus."
Scott Davies: Vital statistics
Team: Dimension Data
Age: 22
Height: 1.84m
Weight: 66kg
Notable results:
Won National Under-23 time trial 2017, 2016, 2015, 2014.
Won Stage 4 Ronde de L'Isard 2016.
Second Giro Ciclistico d'Italia TT 2017.
Second youth classification Herald Sun Tour 2015.
Fifth GC Tour d'Alsace 2017.
Thank you for reading 20 articles this month* Join now for unlimited access
Enjoy your first month for just £1 / $1 / €1
*Read 5 free articles per month without a subscription
Join now for unlimited access
Try first month for just £1 / $1 / €1