Saved by a doping test: The pro rider treated for cancer after abnormal blood result
When his team doctor called about an abnormal test result, Torstein Træen could not believe what was happening – but it would turn out to be a potentially life-saving red flag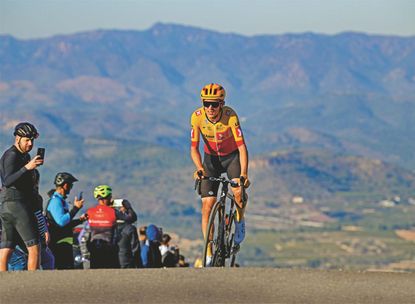 (Image credit: Getty)
This article was originally published in Cycling Weekly's print edition as part of the long-running MY FITNESS CHALLENGE series.
It was May 2022 and Torstein Træen was in the Sierra Nevada mountains in Spain tucking into a big breakfast with his Uno-X Pro Cycling team-mates. The date has stuck in his mind. "It was Friday the 13th – we were joking with each other that something bad was going to happen today," remembers the 27-year-old Norwegian, speaking to me by phone from a winter training camp in Altea, Spain. Træen recalls the exact moment when, while walking back to his room to get ready for the day's ride, his phone rang. It was Knut Rønning, the team's doctor. "He asked me if I had read the email in my inbox, and I was like, 'yeah, yeah'." But Træen had skimmed over it, missing the email's significance. Rønning spelled it out: "You've returned a positive for hCG from the Volta a Catalunya."
The letters 'hCG' stand for human chorionic gonadotropin, a sex hormone that in females triggers critical processes during pregnancy but which in males is usually found only in very low levels. It is on WADA's banned doping list for male athletes because hCG products stimulate testosterone production.
Træen froze. The Friday-the-13th joke at the breakfast table was not so funny anymore. "I was in complete shock," Træen says. There were only two plausible explanations: either he had an unexplained positive doping test, or the results indicated a health problem. Rønning was still on the line, but the rest of the conversation is now a blur in Træen's memory. He recalls only Rønning's firm instructions: "He said I needed to go to the doctor now, and I asked why. 'You could be sick,' he said. I told him I had felt unwell after Catalunya, but he said, 'No, you could be really sick'."
Rønning did not at the time disclose his awareness that hCG could indicate testicular cancer, and only later learnt that the rider had been experiencing mild pain in his testicles, shrugged off because he "didn't think it was a problem". It was certainly a problem now. Træen booked the first available flight home to Stavanger and, less than 72 hours after Rønning's call, was sitting opposite his GP. "I was quite nervous," he admits. "When we did the ultrasound scan and blood tests a few days later, nothing really showed up. A second ultrasound was booked in for two weeks later."
That fortnight passed slowly, and as the pain in his testicles became more pronounced, all parties strongly suspected that testicular cancer was indeed the cause of the elevated hCG levels in his blood. "It was hard just waiting, not knowing what to do. I had to train, but didn't feel like it," Træen reflects. At his next scan, the doctor's jarring bedside manner left no space for doubt about the seriousness of the situation. "He said to me, 'I'm going to make sure you don't die of cancer'," Træen remembers. "I knew then it was not looking good. I laughed as I didn't know what else to say."
Only a few weeks earlier Træen had been enjoying some of his best performances: ninth on GC at the Volta a Catalunya, and the KOM jersey at the Tour of the Alps. Now he was doing his best to focus on testicular cancer's very high survival rates, with around 90% of men treated for the condition surviving for at least 10 years after their diagnosis. "I was pretty sure everything would be OK," says Træen. "The word 'cancer' is really scary, but I was just thinking about cycling and getting back."
Over the next six weeks his only constant was blood tests, and staying focused on training was difficult – especially when his girlfriend Susanne Andersen, who also races for Uno-X, was away racing the RideLondon Classique. "I was left alone for a few weeks," says Træen. "I ordered takeaways almost every day. I could go three days without training, and then I'd train the next four days. It was as though I was in the off-season – not doing a lot, but eating a lot. Daily life was tough."
Under the knife
Finally the tests yielded a course of action. "The surgeon said she wanted to remove my left testicle," Træen says. "They still weren't certain it was cancerous, but they wouldn't be able to tell until they took it out and looked inside." Træen took a pragmatic view. "To lose one testicle isn't that bad," he says, but in the next breath admits that he had to face up to the risk to his fertility. "I had a lot of growing-up things to do. They told me that everything will be fine afterwards and work normally, but I had to go to a sperm bank, just in case."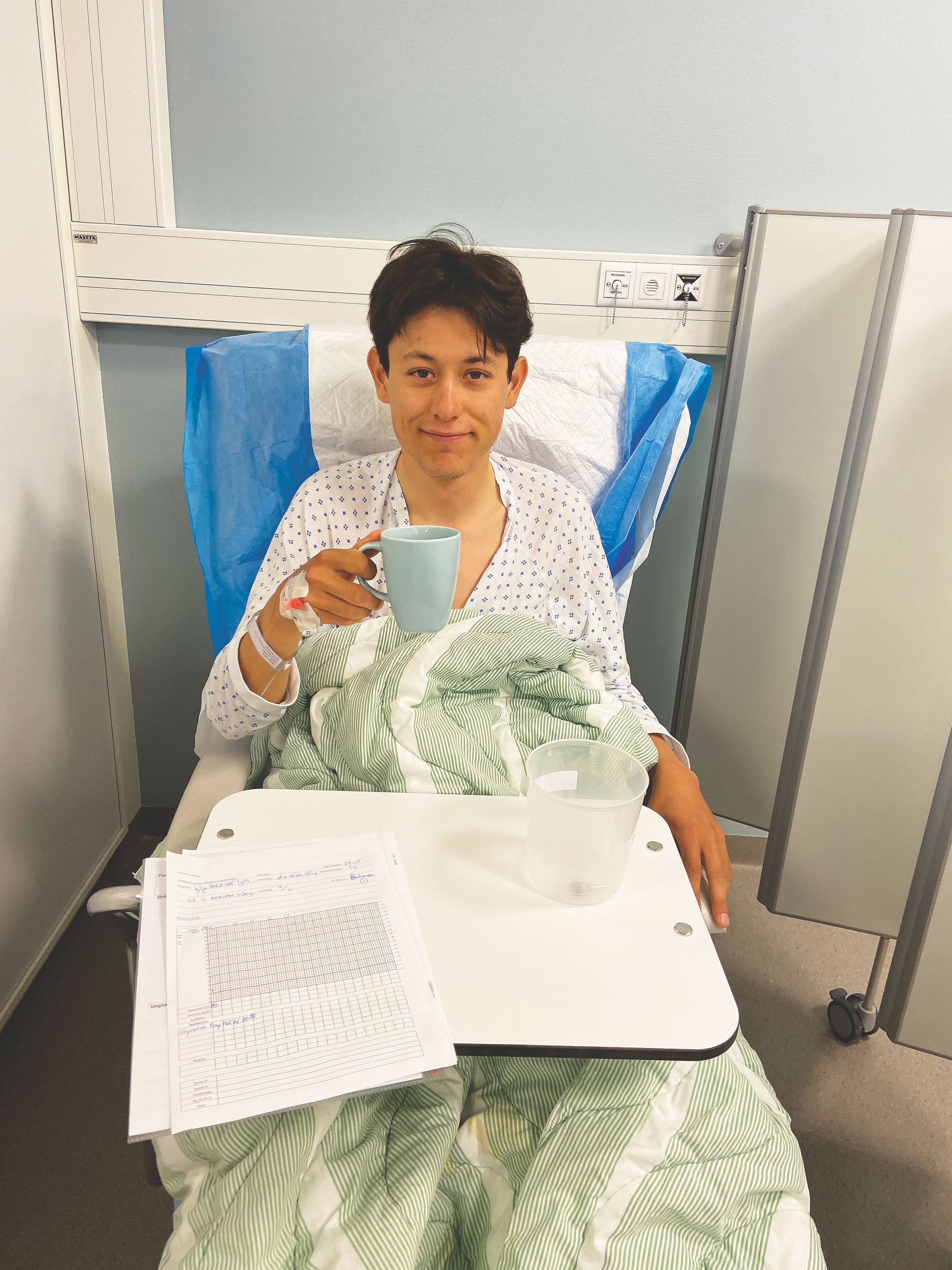 On 23 June, 41 days after the Friday-the-13th call he'll never forget, Træen went under the knife. And thank God he did. On 5 July he received a call from the hospital. "When they removed my left testicle, they found a 15mm cancerous tumour inside it," he reveals. There was no evidence the cancer had spread – he was in the clear. On Instagram, Træen posted: "I got 99 problems but cancer ain't one (anymore)."
Did the doping control save his life? "I'm not sure," he says, "but for sure it saved me from chemotherapy and for that I am really blessed." Træen believes that on the day he peed in a pot in northern Spain, the cancer was in its early stages. "Two weeks before Catalunya I'd been tested by Anti-Doping Norway and they didn't find any traces of hCG," he explains, "so we caught it at the start, meaning I didn't need any chemo or complicated surgery."
Check your balls
Testicular cancer is relatively rare, accounting for only about 1% of all cancers in men. However, it tends to affect younger men, aged 15-40, and rates are on the rise. All men are advised to perform a self-exam of their testicles once a month, preferably after a warm bath or shower, when the scrotal skin is relaxed. Examine one testicle at a time by gently rolling it between your fingers – look and feel for any lumps, bumps, or changes in size, shape or firmness. If you detect any changes or lumps, it is important to seek medical advice as soon as possible.
What was it like returning to training post-surgery? "On the first ride, I was like, 'oh f**k, this really hurts!" A more padded saddle helped ease the agony. "Now I can go six hours without being in pain," says Træen. "It's still a problem on the TT bike, but we'll get it sorted."
A gradual return to training followed, and on 18 August, a mere four months since he won the mountains classification at the Tour of the Alps, Træen took to the startline of the Baltic Chain Tour alongside five of his team's development riders. "It was strange to be back, but I was really happy," he smiles.
A fortnight later, he finished third at the Lillehammer GP; in October he rode to seventh overall at the Cro Race, then took third at the Tour de Langkawi in Malaysia. It was a remarkable return to form. "The team were shocked that I was good in Croatia because the parcours there was more punchy. I was just happy to be there, to be racing in the finale."
As he begins the 2023 season, Træen's eyes are on victory and maybe even a spot at the Tour de France – his Uno-X team have secured a wildcard entry. Any lasting effects from his ordeal? "Now, if I'm having a bad day, I realise it's not really that bad," he says. "It's changed me, for sure. I feel grateful to be able to do what I love – because I found out that cycling, like life, can easily be taken away from you."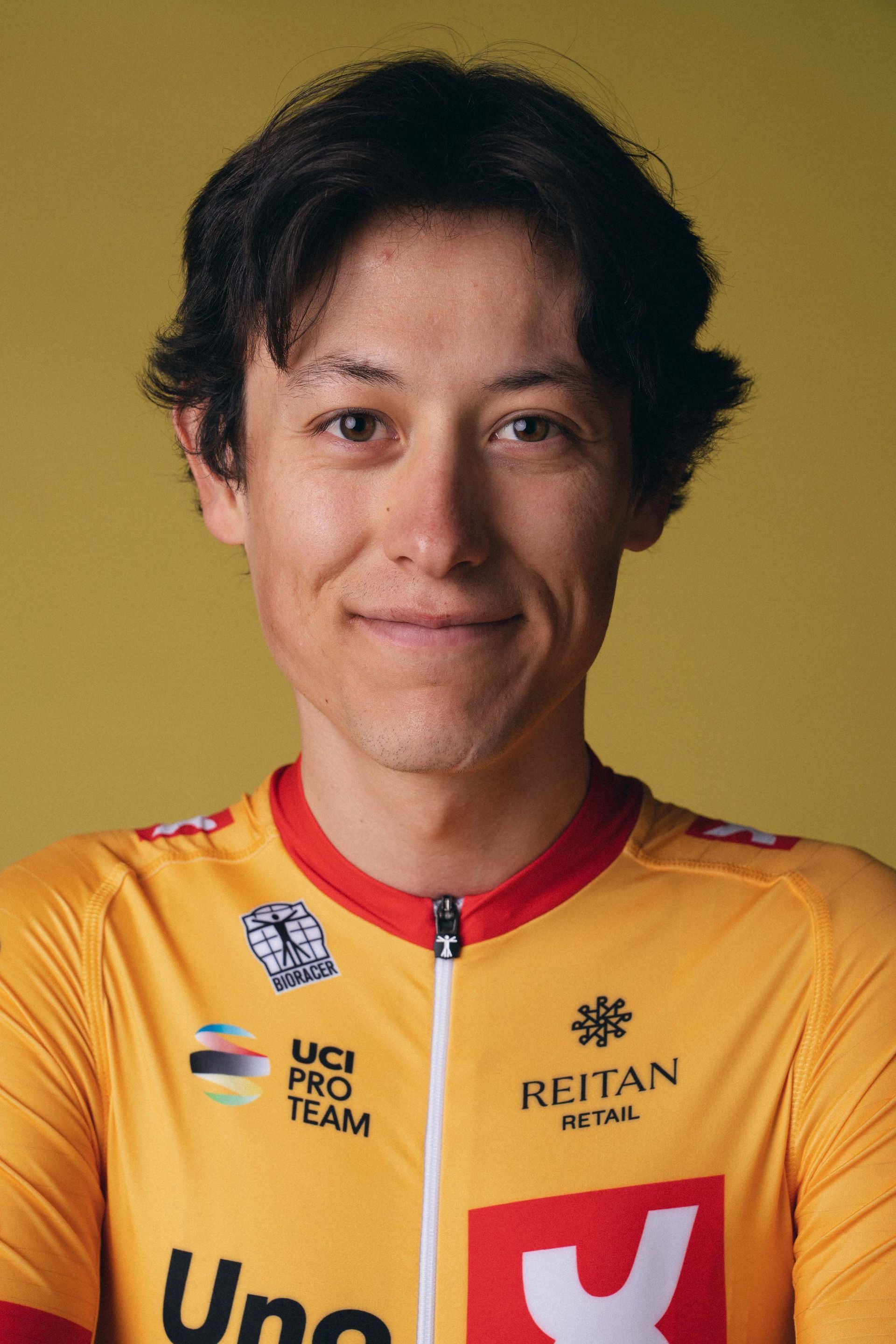 Team doctor's view: 'Openness was key'
For Uno-X team doctor Knut Rønning, no rider on the Norwegian team had ever returned a positive doping test result, nor been diagnosed with cancer. There was a lot of learning on the job.
"We realised early on that openness and talking about everything was important – symptoms, processes, nutrition, mental and general health. But also we had to refrain from giving out information to everyone until we had more clarity," says the Danish doctor. "I am proud of how our whole team handled it."
Træen underwent treatment in his native Norway, but Rønning was a vital lifeline from across the North Sea. "My work was continuously supporting him on the phone, putting some of his worries to rest, explaining each step and answering questions.
"I think he put on a brave face. I am sure it was much more of an emotional rollercoaster than he showed. Having his girlfriend with him was a big emotional support, meaning he wasn't sitting in his apartment just thinking and worrying."
The full version of this article was published in the 16 February 2023 print edition of Cycling Weekly magazine. Subscribe online and get the magazine delivered to your door every week.
Thank you for reading 20 articles this month* Join now for unlimited access
Enjoy your first month for just £1 / $1 / €1
*Read 5 free articles per month without a subscription
Join now for unlimited access
Try first month for just £1 / $1 / €1