Marin suffers £30,000 bike theft from van in Rotherham
Marin Bikes' van is broken into in Rotherham, with eight bikes removed and vehicle left in 'undriveable' state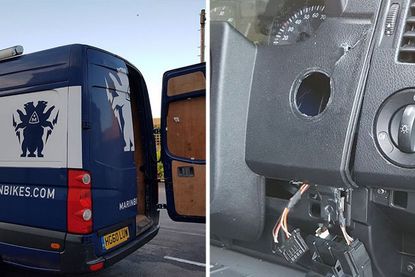 (Image credit: Marin Bikes)
Eight bikes worth a total of £30,000 have been stolen from Marin Bikes in Rotherham on Thursday night.
The bikes were in a Marin branded van in the car park of the Aston Hall Hotel when they were removed by thieves.
The thieves caused extensive damage to the vehicle, destroying the door locks and ignition, leaving the van unuseable.
Marin were due to visit Rotherham dealer JE James on Friday with the demo bikes. JE James listed the missing Marin bikes on its Facebook page as:
2 x Wolf Ridge 9 (large)
1 x Wolf Ridge 9 (medium)
1 x Hawk Hill 3 (medium)
1 x Hawk Hill 3 (large)
1 x B17 3 (large)
1 x Rift Zone 3 (XL)
1 x Rift Zone 1 (large)
Marin are asking anyone with any information to contact them on telephone number 01709 361919 (UK), or to report to the police via 101.
Photos of the bike models stolen can be found on JE James's Facebook page.
The incident is not an isolated one. Cycling Weekly suffered a similar theft from vans parked in Blyth, Nottinghamshire on Thursday, November 24 – around 20 miles from the location of the Marin theft.
A total of 27 bikes and various other products were stolen from three vans, with a retail value of around £150,000.
Thank you for reading 5 articles this month* Join now for unlimited access
Enjoy your first month for just £1 / $1 / €1
*Read 5 free articles per month without a subscription
Join now for unlimited access
Try first month for just £1 / $1 / €1