Matt Bottrill wins National 50-mile time trial (photos)
Matt Bottrill takes British 50-mile time trial title by over three minutes. Photos by Andy Jones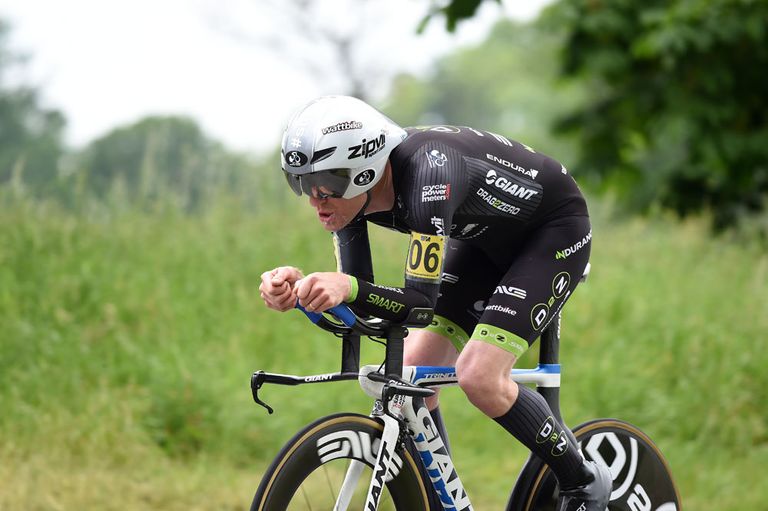 (Image credit: Andy Jones)
Matt Bottrill bagged his third consecutive National 50-Mile Championship in Cheshire on Saturday, winning by more than three minutes as his domination continues.
The 37-year-old drag2zero.com rider covered the course near Goostrey in 1:41.22 to win by 3.10 from Mike Vaughan Cycles' Matt Clinton, the former National Hill-Climb Champion who was riding his first 50-mile time trial, while Brett Harwood (Terry Wright Cycles) was 15 seconds back in third.
The forecast rain held off as the riders tackled three laps of the circuit from Cranage to Twemlow, Chelford and Knutsford, but from the start of his run it looked apparent that national competition record holder Bottrill was significantly better than his rivals and – barring misfortune – would take the title once again.
"It's very nice to win it for a third time," said Bottrill. "I think this was one of the most competitive 50-mile Championships I've ridden.
"I dropped my bottle on the first lap and I was worried about getting dehydrated, but my team got another bottle up to me. I was getting time checks so I knew I didn't have to push myself on the last lap. There was quite a lot of traffic about and I didn't want to take any risks."
The men's team prize went to Team Velovelocity, with Matthew Smith, Jason Bouttell and Daniel Bloy all appearing in the top ten.
The National 50-Mile Championship entourage moves on to Prees in Shropshire for Sunday's women's title race, where defending champion Hayley Simmonds (Velosport) faces competition from eight-time National 50 champion Julia Shaw (drag2zero.com).
Result
National 50-mile Time Trial Championship 2015
1. Matthew Bottrill (drag2zero.com) 1:41.22
2. Matt Clinton (Mike Vaughan Cycles) 1:44.32
3. Brett Harwood (Terry Wright Cycles) 1:44.47
4. Andy Jackson (Team Swift) 1:45.25
5. Matthew Smith (Team Velovelocity) 1:45.48
6. Jonathan Parker (PMR@Toachim House) 1:45.55
7. Joshua Williams (Revolutions Racing) 1:45.59
8. Jason Bouttell (Team Velovelocity) 1:46.09
9. David Crawley (Fibrax-Wrexham RC) 1:47.57
10. Daniel Bloy (Team Velovelocity) 1:49.08