Matt Clinton and Sarah Storey take National Circuit Championships titles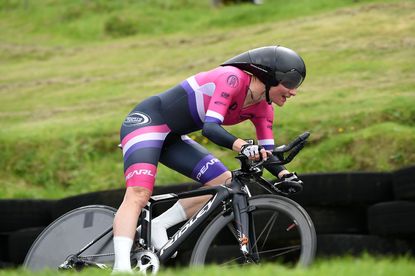 (Image credit: Andy Jones)
Matt Clinton and Sarah Storey were crowned National Circuit Champions after winning their respective events in the 20-mile contest held at Cranfield in Bedfordshire on Sunday.
30-year-old Clinton, who rides for Mike Vaughan Cycles, had finished second in both the 10 and 50-mile National Championships earlier in the season and went one better here with his time of 41.30 enough to bag him the title.
"The course was a little bit draggy but nothing I couldn't handle using the big ring," he said. "I'm looking forward to the National Hill Climb Championships, that's my next event.
"It's nice to win a second championship. It's some years since I won the hill climb title. It was a hard, rolling course which suited me."
>>> How a bike costing £1,000 won the National 10-Mile Time Trial Championship
In second place was Joshua Williams of Revolution Racing with a time of 42.14. The podium was completed by Terry Wright Cycles' Brett Harwood in 42.17.
The event also counted as the sixth and final round of the Classic Series. The series had already been wrapped up by Matt Bottrill and the Drag2zero rider's hopes of ending his cycling career on a high before moving on to competing in triathlon were dealt a fatal blow when he punctured early on his run.
How to beat a long time trial
Sarah Storey beat her Pearl Izumi Sports Tours International team-mate Claire Rose to the women's title, storming round the course in a time of 46.47. Rose managed 48.17 to finish second.
Storey said: "I did a solid ride today, there were quite a few ups and downs on the course but nothing that I couldn't cope with using the big ring and tri bars. I've got a closed circuit championship to come and I'm also riding in the event at the London Six-Day."
>>> Sarah Storey: No plans to tackle Hour Record again
In the junior championship, Matt Langworthy finally landed a title after finishing second in both the 10 and 25-mile National Championships earlier in the season.
The Mid Devon CC rider's time of 44.14 was enough to see off the challenge of James Garratt (Welland Valley CC). Although Garratt missed out on top spot, his 44.57 was just enough to beat High Wycombe CC's George Clarke by four seconds.
Thank you for reading 20 articles this month* Join now for unlimited access
Enjoy your first month for just £1 / $1 / €1
*Read 5 free articles per month without a subscription
Join now for unlimited access
Try first month for just £1 / $1 / €1