Sarah Storey: No plans to tackle Hour Record again
Dame Sarah Storey has ruled out another attempt at breaking Leontien Zijlaard-van Moorsel's 12-year-old women's Hour Record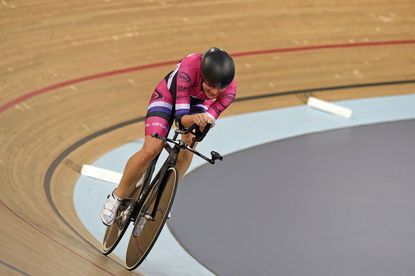 (Image credit: Andy Jones)
Dame Sarah Storey insists she has no desire to tackle the Hour Record again any time soon.
The 37-year-old missed out on breaking Leontien Zijlaard-van Moorsel's record of 46.065km by just 563m at the Lee Valley VeloPark in London on Saturday.
But, while Graeme Obree jumped back on the bike less than 24 hours after his failure to break Francesco Moser's record in 1993, Storey has ruled out any second attempt.
"No. It's a once in a lifetime," she told Press Association Sport.
"I won't be considering doing it any time soon. If I ever did it again it would be well after Rio.
"I have absolutely no idea how Graeme Obree did it again the following day, when he was unsuccessful in his attempt and then successful the day after.
>>> Dame Sarah Storey: "I gave it the best I could"
"It's an incredibly drawn out, painful process. I hoped I had enough in me to go over 46km, but whatever I was going to do was going to be the absolute best I had.
"I feel I couldn't have given any more and so I can't be too hard on myself. I was hard enough on myself just to finish on Saturday."
While Storey fell short of the UCI Hour Record she did set a new British, Masters and C5 record.
Thank you for reading 20 articles this month* Join now for unlimited access
Enjoy your first month for just £1 / $1 / €1
*Read 5 free articles per month without a subscription
Join now for unlimited access
Try first month for just £1 / $1 / €1