Dame Sarah Storey: "I gave it the best I could"
Storey proud as Hour record attempt falls short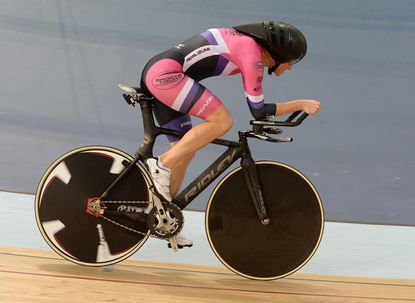 (Image credit: Andy Jones)
Dame Sarah Storey said she gave it the best she could in her Hour record attempt at London's Lee Valley Velodrome, even though she fell short of the target by 563m.
Storey, the 11-time Paralympic gold medallist, was aiming to best Leontien van Moorsel's 46.065km set in 2003 in Mexico City, which equated to just over 184 laps of the velodrome track.
"I'm just relieved to have finished and done it. I always said I was going to come and do the best I could and that's exactly what's happened," she told Cycling Weekly after the attempt.
Storey slowed as the hour ticked over to finish with 45.502km, and while she fell short of the UCI Hour record she did set a new British, Masters and C5 record.
"It was Chris Boardman that said it's an event that should be respected and feared and there's absolutely no doubt that I respected and feared it; it's so hard," she said. "Being in that position for one hour that's an achievement in itself, without having to pedal or anything," she said.
Speaking after the attempt, Storey admitted that she was at times unsure of how she was doing, and had to set herself small targets to keep herself motivated as the laps ticked over.
"I had no idea because I expected I would have a lap board and I didn't. And then I realised I forgot to count [laps] there was no way I was counting for the full hour so I just had to think as it started to get grippy, I could count three laps and then I could see another minute go past, then I could count three laps.
"I just kept thinking in the final 20 minutes 'right that's 60 laps, I can do 60 laps', that's what the girls did in the points race [earlier in the Revolution Series]. Just little things, small targets, and little goals."
She continued: "In some ways only being able to see 60 on the board was probably better than trying to count up to 184 and a bit. Whilst not seeing the lap boards was frustrating in some ways in other ways it was probably a godsend because I do remember counting every single blummin lap when I did the simulation a few weeks ago."
Thank you for reading 20 articles this month* Join now for unlimited access
Enjoy your first month for just £1 / $1 / €1
*Read 5 free articles per month without a subscription
Join now for unlimited access
Try first month for just £1 / $1 / €1