Matthew Burton and Helen McKay win Waller Pain hill climb (photos)
New women's event record for the Waller Pain hill climb, held in Caterham, Surrey. Photos by Sarah Wynn/Nigel Wynn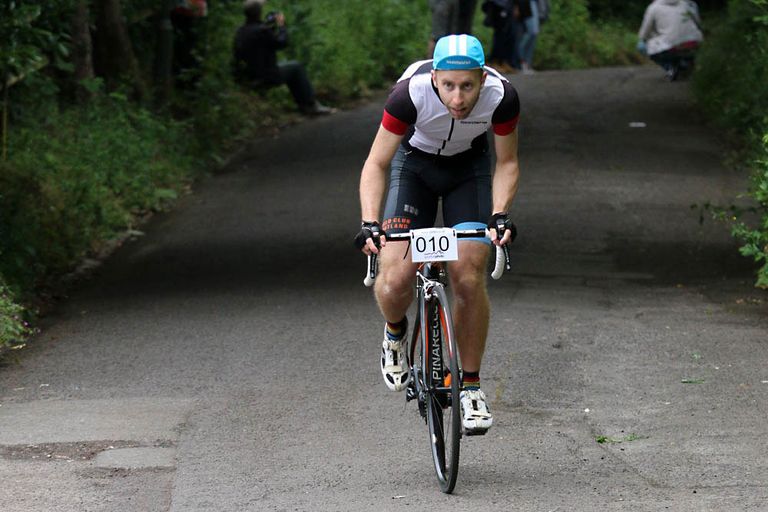 (Image credit: Sarah Wynn)
Matthew Burton (Velo Club Rutland) took the victory in the 2015 Waller Pain hill climb in Caterham, Surrey, on Sunday, just missing out on equalling the event record by one second. Burton topped the record list of over 100 competitors.
Burton tackled the steep ascent of Waller Lane in one minute and 15.3 seconds, just short of the mark set by Matthew Pilkington in 2011.
James Lowden (Neon Velo) placed second with 1-18.3, and Keith Henderson (Southborough & District Wheelers) in third with 1-19.8. Henderson also secured the veteran male category with his ride.
Helen McKay (Les Filles RT) successfully defended her women's title this year, having set a new women's event record of 1-47 in 2014, she came close to this mark with 1-49.7. Penny Rowson (Matrix Pro Cycling) was a special guest at the event, and was second in the women's category with 2-10.2.
In the other categories, Jacob Vaughan (VCL) took the under-16 men's title; Isla Aimee Rush (Wyndy Milla) the under-16 women; Lesley Wilkinson (Addiscombe CC) veteran women; Aimee Hobbs (Oxted CC) under-12 girls; Peter Carpenter (Sutton CC) under 12 boys; and Bob Treadwell the men's super-vets.
As well as the more 'serious' categories, the charity fund-raising event welcomes anyone to take part, and saw riders aged from five to 85 on all manner of bikes.
The large entry field, electronic timing and live course commentary by Marty MacDonald, along with sponsorship from Yellow Jersey Cycle Insurance, has seen the event organised by Caterham Round Table grow in stature since its launch in 2010.
Result
Waller Pain 2015, Caterham, Surrey: Men
1. Matthew Burton (Velo Club Rutland) in 1-15.3
2. James Lowden (Neon Velo) in 1-18.3
3. Keith Henderon (Southborough & District Wheelers) in 1-19.8
4. Chris Balkham (Oxted CC) in 1-20.1
5. Ewan Tuohy (Catford Banks) in 1-20.2
6. Robert Davies (TH) 1-23.5
7. Sebastian Lewis (Maison du Velo) 1-26.8
8. Edd Sowden (Paceline RT) in 1-27.0
9. Dan Pullen (Crawley Wheelers) in 1-28.1
10. Jacob Vaughan (VCL) in 1-28.8
Women
1. Helen McKay (Les Filles RT) in 1-49.7
2. Penny Rowson (Matrix Fitness) in 2-10.2
3. Lesley Wilkinson (Addiscombe CC) in 2-18.0
Full results at Yellow Jersey
Video: how much faster is an aero bike