Milan-San Remo route change 'will be a surprise' says organiser
Route for 2015 edition of Milan-San Remo will be officially revealed on Friday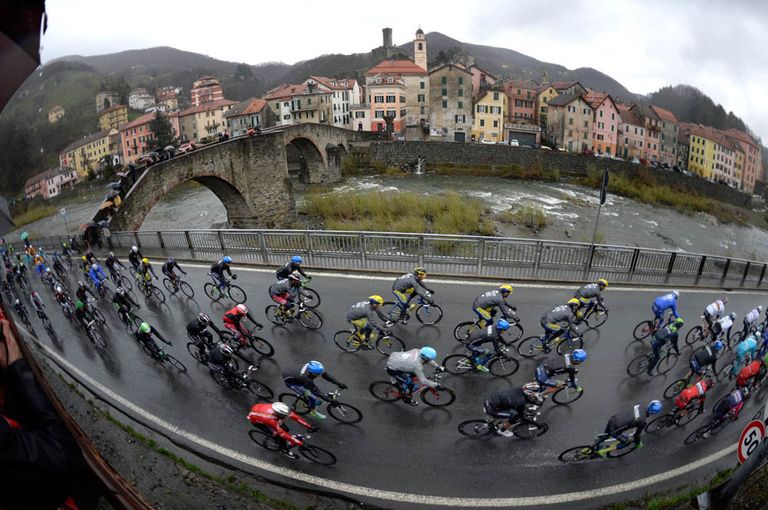 (Image credit: Watson)
Italian one-day classic Milan-San Remo will change direction in 2015 with a rumoured Via Roma finish in the centre of the Ligurian seaside town on March 22.
"We are going to see a surprise," Race Director Mauro Vegni told Cycling Weekly. "It's not really so much of a surprise, but given the last 20 years, the change could been seen as a surprise return to Milan-San Remo."
Organiser RCS Sport told Cycling Weekly that it will announce the official route of the spring classic, typically nearly 300 kilometres long, on Friday.
It began using the Via Roma finish in 1949 when Italian cycling great, Fausto Coppi won. Coppi took three titles in total. Eddy Merckx holds the record at seven wins. The narrow Via Roma, a few blocks up and parallel to the Mediterranean coast, saw many more wins.
RCS Sport finished its spring classic on the street until 2007 when Spaniard Oscar Freire won. The next year, in 2008, it moved the final straight because shopkeepers complained of disruptions and placed it next to the seaside on Italo Calvino. Swiss Fabian Cancellara inaugurated the new finish with a three kilometre solo ride to the line. Mark Cavendish led the bunch sprint in 2009.
Italian website, Tutto Bici reported that in a city meeting Tuesday morning San Remo officials announced the Via Roma finish. RCS Sport, however, would not confirm the decision when contacted by Cycling Weekly.
Vegni remained vague when asked about changes further east along the coast outside of San Remo. He had planned to run the race up the five-kilometre Pompeiana climb between the Cipressa and Poggio climbs for 2014, but poor road conditions forced RCS Sport to skip it. The climb would have changed the face of the race, swinging it in favour of climbers like Vincenzo Nibali (Astana).
"The Pompeiana climb depends on many things, it may or not be in the 2015 edition," Vegni said. "When you make a decision, you do it to make the race better. Then you get to the race time, that decision could no longer be valid."
Over the years, RCS Sport tried to make its one-day classic harder. In 1960, director Vincenzo Torriani added the Poggio. The Cipressa arrived in 1982, followed by Le Mànie in 2008.
Without the Pompeiana and Le Mànie, which Vegni already ditched for the 2014 edition, the 2015 Milan-San Remo would resemble what most cyclists call the race's classic version. The route starts in the heart of Italy's fashion capital, cuts through the Po Valley and after the Turchino Pass, runs along the coast with the Tre Capi – Mele, Cervo and Berta – the Cipressa and the Poggio climbs. The Poggio leaves around five kilometres to race, depending on where RCS Sport places the finish line in San Remo.
Ben Swift says he felt 'better and better' as the 300km Milan-San Remo progressed, eventually placing third
Britain's Ben Swift (Sky) places third behind Alexander Kristoff and Fabian Cancellara in Milan-San Remo 2014