Fabian Cancellara: Rider Profile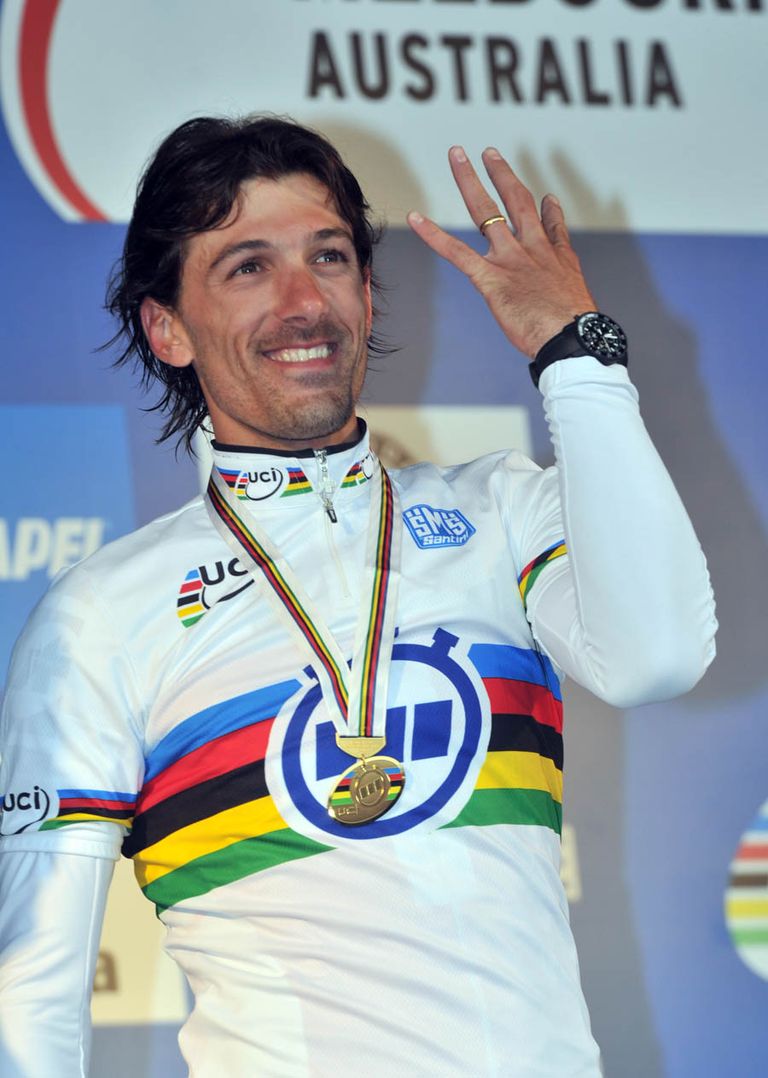 FABIAN CANCELLARA
Date of birth: 18/03/1981
From: Wholen, Switzerland
Team: Trek Factory Racing
Previous teams: RadioShack-Nissan (2011-2013), Team CSC/Saxo Bank (2006-2010); Fassa Bortolo (2003-2005); Mapei (2001-2002)
Fabian Cancellara career profile
Fabian Cancellara is arguably the best time trialist in men's professional cycling and a strong classics rider who used his speed and power to win Paris-Roubaix in 2006 and Milan-San Remo in 2008.
Cancellara's parents come from the south of Italy but he was born close to Berne in Switzerland and speaks German, French, Italian and English. He is nicknamed Spartacus because of his aggressive style of racing.
Cancellara was a talented cross country skier as a boy but focused totally on cycling after winning the junior world time trial championships in 1998 and 1999. He was second in the 2000 under 23 world championships at just 19 and joined the Mapei development team as part of a talented generation of riders that also included Britain's Charly Wegelius, Filippo Pozzato, Bernhard Eisel, Patrick Sinkewitz, Laszlo Bodrogi and Michael Rogers.
Cancellara won his first professional time trial in 2001 at the Tour of Rhodes and has not looked back since. He joined Fassa Bortolo in 2003 and won the prologue time trial at the 2004 Tour de France in Liege and then again in London in 2007. He won the world time trial title in 2006 and 2007 and won the gold medal in the time trial at the Beijing Olympics in 2008. He also won a bronze medal in the road race thanks to a late charge across to the decisive breakaway.
His victory in the 2006 Paris-Roubaix was surprising at the time but he has since shown he can win major races by combining his speed and aggression. He won Milan-San Remo with a late attack that his rivals were unable to match after comfortably handling the long race distance and the late climbs. He had used the same tactic to win stage three of 2007 Tour de France to Compiegne and used it twice in the 2008 Tour of Switzerland. He won ten races in 2008 and also played a key role in helping team mate Carlos Sastre win the Tour de France.
After a poor start to 2009, Cancellara picked up wins at the Tour de France and Vuelta a Espana before netting the time trial world championship.
In 2010, Cancellara achieved the rare double of winning back-to-back Monuments, scooping the Tour of Flanders and Paris-Roubaix with a stunning display of strength and tactical riding.
Cancellara left Saxo Bank at the end of the 2010 racing season and confirmed his move to the Leopard-Trek squad in November 2010.
In 2013, Cancellara repeated his feat of 2010 - winning both the Tour of Flanders and Paris-Roubaix back-to-back, plus a victory in E3 Harelbeke for good measure.
Fabian Cancellara results
2015
Tour of Oman; stage two
2014
Tour of Flanders
National time trial championship
2013
Tour of Flanders
E3 Harelbeke
Paris-Roubaix
Tour of Austria; stage seven ITT
National time trial championship
Vuelta a Espana; stage 11 ITT
2012
Strade Bianche
Tirreno-Adriatico; stage seven ITT
Tour de France; prologue ITT
2011
Tirreno-Adriatico; stage seven ITT
E3 Prijs Harelbeke
Tour de Luxembourg; prologue ITT
Tour de Suisse; stage one ITT
Tour de Suisse; stage nine ITT
2010
Tour of Oman; overall
E3 Prijs Harelbeke
Tour of Flanders
Paris-Roubaix
Tour de Suisse; stage one ITT
Tour de France; prologue
Tour de France; stage 19 ITT
World time trial championships
2009
Tour de France; stage one
Vuelta a Espana; stage one
Vuelta a Espana; stage seven
Tour of Switzerland; stage one
Tour of Switzerland; stage nine
Tour of Switzerland; overall
Tour of Switzerland; points classification
Tour of California; prologue
World time trial championships
National road race championships
2008
Tour of Switzerland; stage seven
Tour of Switzerland; stage nine
Tour of Switzerland; points classification
Tirreno-Adriatico; overall
Tirreno-Adriatico; stage 5 TT
Milan-San Remo
Tour of California; prologue
Tour of Luxembourg; prologue TT
Strade Bianche
Swiss national time trial champion
Olympic time trial champion
2007
Tour de France; prologue
Tour de France; stage three
Tour of Switzerland; stage one
Tour of Switzerland; stage nine
World time trial championship
Swiss national time trial championship
2006
Tirreno-Adriatico; stage five
Tour of Catalonia; stage one
Tour of Denmark; overall
Tour of Denmark; stage two
Tour of Denmark; stage five
Paris-Roubaix
Swiss national time trial championship
World time trial championship
2005
Paris-Nice; stage four
Tour of Catalonia; stage five
Tour of Luxembourg; stage 4
Swiss national time trial championship
2004
Tour de France; prologue
Tour of Catalonia: stage win
Tour of Luxembourg; stage
Tour of Qatar; stage
Swiss national time trial championship
2003
Tour of Switzerland; stage
Tour of Romandie; prologue
Tour of Belgium; stage
2002
Tour of Rhodes; prologue
Tour of Rhodes; overall
GP Erik Breukink; stage
GP Erik Breukink; overall
ZLM Tour
Tour of Austria; prologue TT
Tour of Boemia; stage
Swiss national time trial championship
GP Eddy Merckx TT (with Laszlo Bodrogi)
2001
Tour of Rhodes; prologue
Tour of Rhodes; overall
RELATED LINKS
Cycling Weekly's Rider Profiles: Index