More people riding bikes makes cycling safer for everyone, major new study finds
20-year study in New York sees huge decline in fatalities and injuries and cycling numbers rise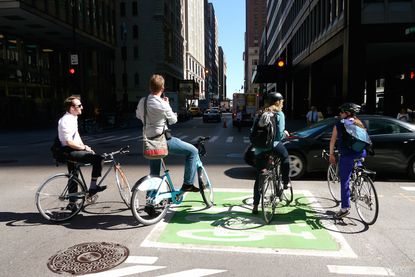 The more people that ride bikes, the safer that riding a bike becomes: that's the finding of a new study looking at cycling in New York City over a 20-year period.
The study, which was carried out by the New York Department of Transport, found levels of cycling fatalities and injuries falling as the number of cyclists on the city's streets increased, with the safety improvement being particularly stark on roads with cycling facilities and areas covered by the city's bike-share scheme.
>>> Nine ways to make your commute more like the Tour de France
Between 1996-2001, 51 million trips were made by bike in the city, rising to 134 million in 2011-2015. Over the same period the number of cyclists killed or seriously injured nearly halved, meaning that 292 riders were killed or seriously injured per 100 million trips in 2011-2015, compared to 1,072 in 1996-2001.
This "safety in numbers" effect was particularly noticeable in certain areas where the city's authorities had invested in cycling.
For example, the number of cyclists killed or seriously injured declined by 17 per cent in just one year in areas covered by the city's Citi Bike bike-share scheme, despite a large increase in the number of trips made.
>>> Lack of basic facilities provided for cycling commuters at work laid bare by report
Cyclists were also less likely to be involved in incidents on streets with cycling facilities, with 89 per cent of fatalities occurring on streets without cycling facilities.
However the city isn't resting on its laurels, with plans in place to improve cycling facilities further and to double the number of people cycling regularly through building 50 miles of cycling facilities each year and increasing the percentage of the population who live near cycling facilities to 90 per cent in the next five years.
Thank you for reading 20 articles this month* Join now for unlimited access
Enjoy your first month for just £1 / $1 / €1
*Read 5 free articles per month without a subscription
Join now for unlimited access
Try first month for just £1 / $1 / €1