Nine ways to make your commute more like the Tour de France
Commuting by bike can become a bit mundane, especially in a big city, but here are some ways you can make your journey more like the Tour de France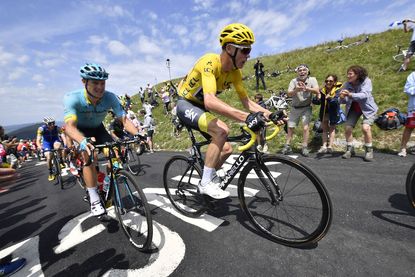 (Image credit: Yuzuru Sunada)
1. Ride behind someone with the same bike
It's always nice to see someone else riding the same bike as you, especially if your steed is a from a relatively niche brand.
At the Tour de France everyone on the team rides the same bike, so make friends with your new bike buddy and sit on their wheel as far as you can.
Guaranteed to make you friends on your ride to work, this works especially well if there's someone in your office on the same machine, so you can then beat them to the line every day when you reach the bike shed.
2. Spot people in team jerseys
Team jerseys get a bit of a bad press in amateur cycling. There's nothing wrong with showing support for your favourite professional team, so why don't you stick together with those who also want to?
If someone sees one person in a Team Sky jersey riding along they'll likely think you're some kind of amateur, but if there's two or three of you then they're more likely to think you're actually a pro.
Even better is if your colleague who rides the same bike as you that you always out-sprint to the office is wearing the same kit as you. It's easy to ensure - just buy the same kit as them and wear it every day.
3. Refuse to talk to your colleagues when you get to the office*
One of the hardest parts of being a journalist at the Tour de France is trying to interview people after a 200km stage in the searing heat across seven mountains.
To truly capture that spirit, simply dismount your bike and storm straight to your desk without any acknowledgement of the people wishing you a good morning.
Your colleagues will understand... you've had a tough time on the bike.
* Cycling Weekly accepts no responsibility if this gets you sacked
4. Ask a guy in a car to rub cream on your road rash
Even professionals suffer from crash wounds. Those hardy fellows manage to continue the Tour de France with half their skin hanging off, so why can't you?
If you've suffered a bit of a tumble, simply take a pot of Sudocrem with you the next day and ask a friendly car driver to apply it while you hang on to his wing mirror.
5. Wait for the guy you beat off the line
If someone beats you to the traffic lights, the natural thing to do is try to beat them when the lights turn green.
By all means be a little bit chuffed when you power away, but, as we saw on stage nine to Chambéry, in the Tour de France it's common courtesy to wait for the race leader when they suffer a mechanical.
And, of course, the person you beat will always blame a slipped chain or misfiring gear change for their poor acceleration.
6. Make your own time trials between traffic lights
While much of a commute can be about beating other cyclists, the Tour de France also has stages where you're on your own - the time trials.
Pick two traffic lights and make it you against your machine. It's best not to get into too good a time trial position, though, as you'll probably not be able to stop when the lights turn red.
Time yourself and start a leaderboard in your office.
7. Create your own feed stop*
Early mornings are prime time for office workers to stumble to work with a cup of coffee in their hand and barely looking where they're going.
If you time it right you can ride past one of these people and take the coffee out of their hands, like you would a bidon from a soigneur at the feed stop. Even better if they've also got a croissant.
>>> How do Team Sky fuel for the Tour de France?
*Cycling Weekly accepts no responsibility if this gets you beaten up and in no way encourages cyclists to steal from or antagonise pedestrians
8. Get some men in underwear to run alongside you
When you find yourself flagging on the ride home, then there's nothing that will provide better motivation than arranging for a few of your mates to run along the road dressed in their underwear or, if you can talk them into it, a mankini.
If nothing else you should be encouraged to ride a bit faster, just to make sure you get away from them as quickly as possible
9. Start and finish your ride from a large bus
You're not a real rider until you've got your own bus. And from time to time teams look to flog their old buses so if you can get your hands on one you'll really perfect the pro look.
Probably worth checking that your office car park has room for a Death Star before you fork out £20,000 on one, but if you get to work before all your colleagues then you should be fine.
Thank you for reading 10 articles this month* Join now for unlimited access
Enjoy your first month for just £1 / $1 / €1
*Read 5 free articles per month without a subscription
Join now for unlimited access
Try first month for just £1 / $1 / €1
Stuart Clarke is a News Associates trained journalist who has worked for the likes of the British Olympic Associate, British Rowing and the England and Wales Cricket Board, and of course Cycling Weekly. His work at Cycling Weekly has focused upon professional racing, following the World Tour races and its characters.