How do Team Sky fuel for the Tour de France?
How does one of the most successful Tour de France teams fuel themselves for the biggest event of the year?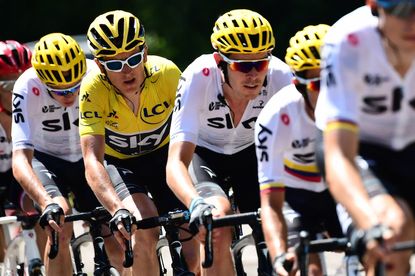 Promotional feature with SiS
Riding the Tour de France is not an easy task. Winning it is even harder. Chris Froome and co will head to this year's Tour making sure that no stone is unturned and one of the biggest stones is their nutritional plan.
Being one of the major "cornerstones" of the Team Sky race plan, Froome says the SiS-led nutrition is just as important as training.
"If you're not getting the right kind of nutrients, you're going to crash and burn sooner or later" Froome says.
Leading that way is Team Sky's Dr James Morton, who working as head of nutrition, who will be hoping that SiS can be a major role in helping Froome climb atop that podium in Paris for the fourth time in five years.
Starting back in December 2016, Dr Morton and Chris Froome have worked together to prepare the Brit for another successful Tour de France; but what does it entail?
"We take each stage in isolation" the diet guru says, "but then all of those stages can add up and represent hard times in the race.
"We try and work with the coaches to predict the energy requirements and then fuel each stage differently. Every rider will go into the stage with their own plan and if they stick to the plan then success will happen," Morton explains.
One of the biggest ways they break the stages down is to categorise them much like the race organisers do.
When it comes to mountain stages, flat stages and time trials the rider's nutritional needs are always tailored. This can be in the form of more solid carbohydrates prior to a big exertion or having semi-solid food bases like gels to keep yourself feeling light.
SIS have given a breakdown of the demands and goals that riders face here as they help Team Sky try and secure a whopping fifth yellow jersey.
The 2017 Tour de France starts in Düsseldorf, Germany, on Saturday July 1 and finishes three weeks later in Paris on Sunday, July 23.
Thank you for reading 20 articles this month* Join now for unlimited access
Enjoy your first month for just £1 / $1 / €1
*Read 5 free articles per month without a subscription
Join now for unlimited access
Try first month for just £1 / $1 / €1