'We need local bike shops': How BikeZaar is extending the reach of your LBS
Imagine a world where you can buy your new bike or new wheels online from an independent bike shop that's 300 miles away from you, just as easily as buying from one that's just down the road.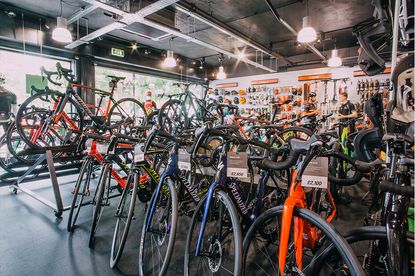 Promotional feature with BikeZaar
Seems far-fetched, right? Not for much longer though. BikeZaar is set to launch its Amazon-type website that will bring together Britain's best bike shops into an e-commerce marketplace.
It will list bikes, wheels, components, clothing, cleaning products and every other cycling-related product that are stocked in local bike shops in one place, making it easier to price compare and to find the exact product you are after.
Just like the way Amazon works, you will be able to search the product you want and it will bring up a list of the stores in the country that houses that item. With a quick click and buy, the bike shop will deliver the product to you – even if it is hundreds of miles away from your base, or you can arrange to collect it from your local store.
It's a win for you as you don't have to spend hours trawling numerous websites or travel hours to buy something, and it keeps the local bike shops in business.
BikeZaar are delighted to sponsor Britain's Best Bike Shop which allows you to vote for your favourite road and mountain biking store in the UK; and just by voting you will be entered into a prize draw to win goodies in excess of £600.
"Britain's Best Bike Shop is perfectly suited to us because we are about promoting Britain's best bike shops," Kevin Griffiths, the founder of the website, said.
"The cycling industry has evolved and we have got to a point where retail growth isn't as strong as it was. Online retailers are continuing to prosper but the independent stores are finding it quite tough.
"If there is an industry that should be concerned about losing its local shop, it's the cycling industry. At some point you will need a bike service, some advice and expertise. You can't get that easily on online-only shops.
"We need local bike shops, and BikeZaar will extend their geographic reach, increase their sales and bring people into their shops, as well as making the buying process easier for customers.
"We're seeing a revolution in e-commerce, companies like Amazon, Airbnb and Uber. Within 3 years it is predicted that 40 percent of all e-commerce will be via a marketplace. That's because you can quickly find what you're looking for in one place, get it at a competitive price and arrange convenient delivery or collection.
"We are bringing together the inventory of Britain's best bike shops. A typical bike shop has a customer radius of about 30 miles, but through BikeZaar someone in Newcastle-upon-Tyne could buy something from a shop based in London, because all the products will appear together.
"It's about collaboration, working together for the benefit of all. We are listing the local bike shop's products and helping them to sell, whilst delivering cost savings through economies of scale."
But that's not all: you will also be able to book a bike service at a local retailer, a bike fit, a mobile mechanic, a bike rental, a training camp, custom club clothing and much more. "We are open to anyone selling anything to the cycling community, no matter what it is," Griffiths, who revealed that BikeZaar will be a truly global enterprise, added.
Thank you for reading 10 articles this month* Join now for unlimited access
Enjoy your first month for just £1 / $1 / €1
*Read 5 free articles per month without a subscription
Join now for unlimited access
Try first month for just £1 / $1 / €1