New London mayor Sadiq Khan must follow through on cycling promises, says Boardman
Chris Boardman calls on Sadiq Khan to live up to his promise to increase spending for cycling in his term as Mayor of London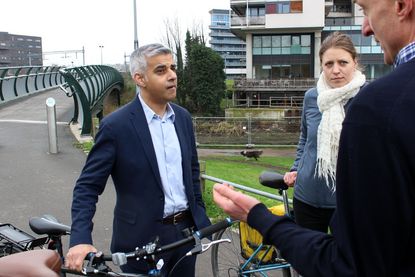 (Image credit: Sadiq Khan)
Chris Boardman has called on new Mayor of London Sadiq Khan to follow through on his promise to increase the funding made available to cycling initiatives in the capital.
Mr Khan told British Cycling's policy advisor during his election campaign that he planned to carry on the work of his predecessors Ken Livingston and Boris Johnson in improving cycling infrastructure in the city.
In his meeting with Boardman he said: "I'm not just going to keep the proportion of Transport for London spending on cycling the same, I'm going to increase it.
"Both Boris Johnson and Ken Livingstone deserve praise for their plans for cycling, and I want to build on, and accelerate, the progress that we've made in London over the last few years."
How to dress for spring cycling
Boardman, who met with all of the main mayoral candidates in the run-up to the election on May 5, says the "proof will be in the pudding".
"Mr Khan clearly recognises the challenges which face modern, expanding cities such as London, and that cycling is a ready-made solution to some of the most pressing of these challenges. It is crucial now that he sticks to this conviction and shows the will and the determination to see these plans through."
Thank you for reading 20 articles this month* Join now for unlimited access
Enjoy your first month for just £1 / $1 / €1
*Read 5 free articles per month without a subscription
Join now for unlimited access
Try first month for just £1 / $1 / €1