NICOLE COOKE GOING FOR WIN NUMBER FOUR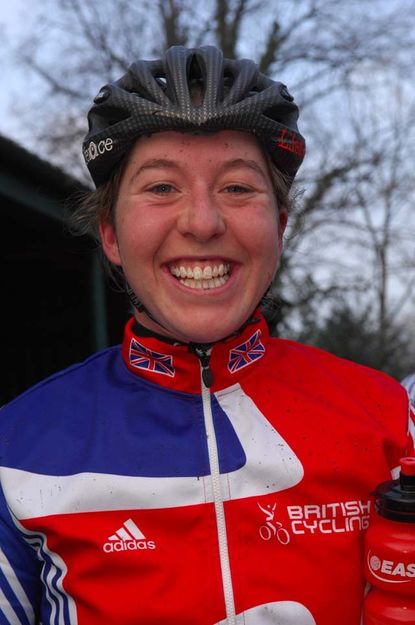 Britain's Nicole Cooke will go for her fourth Fleche Wallonne win at the top of the Mur de Huy in Belgium this Wednesday, backed by the strongest British female team ever assembled.
Cooke leads the team of six that includes Emma Pooley and Sharon Laws, both of whom are tipped to join Cooke on the start line for the Olympic road race this August.
Team manager Julian Winn believes that any one of the three is a potential winner for the women's world cup race, and told www.cyclingweekly.com that they were here to win.
"We identified this race as one that suits us, and we'd definitely like to win it," he said. "We've got some depth for this race, it's not all about one person. This is definitely an aim for us. It's our last world cup, we go in to stage race mode from now on."
Winn explained that the British team will be looking to get Cooke, Laws and Pooley to the bottom of the Cote de Ahin, unscathed, and from there on in it comes down to who has the legs to win.
"The penultimate climb is crucial," Winn said of the Cote de Ahin. "It's smooth and wide. Historically a big groups has arrived at that climb and that's the point it explodes."
The climb is followed by a flat stretch that is often buffeted by crosswinds and then a descent in to Huy. From that point on, tactics are out of the window. "The best rider will win up there, it's a show of strength," Winn said. "It comes down to who can go the fastest. If you're strong you'll be ok, you can either go with it or you can't."
While Laws still remains a little of an unknown, Winn wants Cooke and Pooley, both renowned climbers, to arrive at the bottom of the Huy together. "Emma will light it up if she's got good legs, and Nicole will hold on. Emma is a better climber, but Nicole can hold on to her, and if they get to the finish then you're money would be on Nicole."
The race will be one of the few times that Cooke will go head to head with rival Marianne Vos, offering one of them the chance to strike a psychological blow before the Olympics, where the road race also finishes at the top of a hill.
Swipe to scroll horizontally
Nicole Cooke
Jessica Allen
Catherine Hare
Sharon Laws
Emma Pooley
Swipe to scroll horizontally
Marianne Vos (NED) Team DSB Bank
Vos is a favourite in virtually every race she starts. She has been world champion on the road, at cyclo cross and now on the track. She has a great sprint that works as well at the top of a climb as it does on the flat.
Suzanne De Goede (NED) Equipe Nürnberger
De Goede has to ride in the shadow of her compatriot, but as the current leader of the world cup, she'll have to be taken seriously. The Dutch girl has a strong team behind her, although it's everyone for themselves on the Huy.
Oenone Wood (AUS) Team High Road
The Australian national champion has never won here in Huy, despite the fact she is one of the most prolific sprinters in the women's peloton. Climbing isn't her strong point, but if she can hang on to the wheels of the leaders she'll be a challenger in the sprint.
Fabiana Luperini (ITA) Menkini-Selle Italia
Although Luperini isn't as strong as she once was, she is one of the most experienced riders in the peloton. She has been a pro since 1992 and won here in 1998, 2001 and 2002.
Hanka Kupfernagel (GER) German national team
The world time trial champion won at the top of the Mur de Huy back in 1999 and is still a contender this year. Kupfernagel is three time world cyclo cross champion so she's not averse to high intensity efforts. An outside favourite this year.
Judith Arndt (GER)
High Road have been in good form lately.
Swipe to scroll horizontally
WOMEN'S FLECHE WALLONNE: PREVIOUS WINNERS
2007 Marianne Vos (Netherlands)
2006 Nicole Cooke (Great Britain)
2005 Nicole Cooke (Great Britain)
2004 Sonia Huguet (France)
2003 Nicole Cooke (Great Britain)
2002 Fabiana Luperini (Italy)
2001 Fabiana Luperini (Italy)
2000 Genevieve Jeanson (Canada)
1999 Hanka Kupfernagel (Germany)
1998 Fabiana Luperini (Italy)
Thank you for reading 20 articles this month* Join now for unlimited access
Enjoy your first month for just £1 / $1 / €1
*Read 5 free articles per month without a subscription
Join now for unlimited access
Try first month for just £1 / $1 / €1