Nicole Cooke signs with Wiggle to ride Focus bikes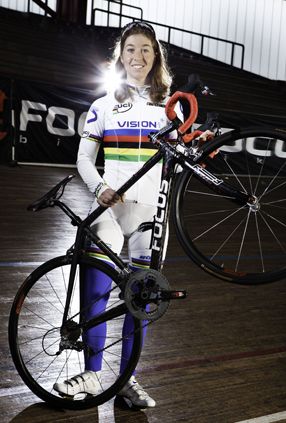 Olympic and World Champion Nicole Cooke has signed a deal with Wiggle and Focus Bikes which will see her and her newly created team, Vision1 Racing, riding Focus frames this season.
Cooke, who stormed to victory at the Beijing Olympics, has set up the team with the goal of developing the next generation of cyclists ready for London 2012 - and she?s delighted they?ll be riding Focus frames.
She said: "I have followed the development of Focus over the last two years and have been impressed with their technology and quality of bikes.
"I'm really excited to be teaming up with Wiggle and Focus. We have chosen our partners carefully because we want to create a really strong image and we?re confident this will be a great partnership."
The Vision1 riders will be using Focus Cayo and Focus Izalco frames for training and racing. Other team sponsors include SRAM, Continental, Ritchey and Haico Wheels.
Cooke said: "I am looking forward to starting the new season and it will be special in many ways. The new team is like a new beginning for me with its own challenges - and then to be in the Rainbow jersey as world champ will be amazing."
The Vision1 team includes a mix of young British talents such as Dani King and Katie Curtis together with more experienced riders Helen Wyman and Gabby Day who it is hoped will bring the best out of each other over the coming seasons to realise their full potential.
Cooke launched the team in October because she believed that it was time to give something back to the sport having achieved her cycling dreams.
She added: "I think that by using my experience of the highest level of racing together with the skills and expertise of the support staff we can create a team structure which can make talented British riders part of the strongest team in women?s cycling by 2012."
World and Olympic champion Nicole Cooke poses with her new Focus bike. The German brand will sponsor the Vision 1 team for the 2009 season.
MATRIX SPONSOR VISION 1
Matrix Fitness Systems has stepped in as a sponsor for Cooke's Vision 1 squad, exclusively providing the team with fitness equipment.
Jon Johnston, Managing Director of Matrix Fitness Systems, says: ?It?s only three years until the Olympics and with the current economic crisis, it?s more important than ever to support both our established and our up-and-coming athletes. At Matrix, we believe in working with role models who lead by example and who inspire future talent??.
?Since her achievements in 2008, Nicole has demonstrated a firm commitment to encouraging the next generation of women?s cyclists and we?re proud to help her give something back to this fast growing sport.?
?I am really happy to work with Matrix. They provide excellent equipment which will help all the riders of Vision 1 Racing get the most out of their training as we work towards our goals this season,? says Nicole Cooke.
RELATED LINKS
Vision1 Racing takes shape
Cooke's Vision1 team finds sponsor
EXTERNAL LINKS